Abstract
UNANI DRUG 'MULSARI' (FLOWER PART OF MIMUSOPS ELENGI LINN) - PHARMACOGNOSTICAL PROFILE AND A REVIEW OF ITS MEDICINAL USES.
Renjini Haridas, Rampratap Meena*, Zaheer Ahmed N. and Murugeswaran R.
ABSTRACT
The flower of Mimusops elengi Linn is important Unani single drug used in Unani formulation for various ailments and its Unani name is Mulsari. Pharmacognostocal profile of Mulsari was carried out on the basis of color, size and microscopy. Flowers are rich source of calcium oxalate crystals and phyto-contituents. Pharmacological review also carried out in this study. From critical analysis of review of literatures, the pharmacological studies of Mulsari revealed that this single drug have excellent medicinal value and potential due to the presence of phyto-contituents.
[Full Text Article]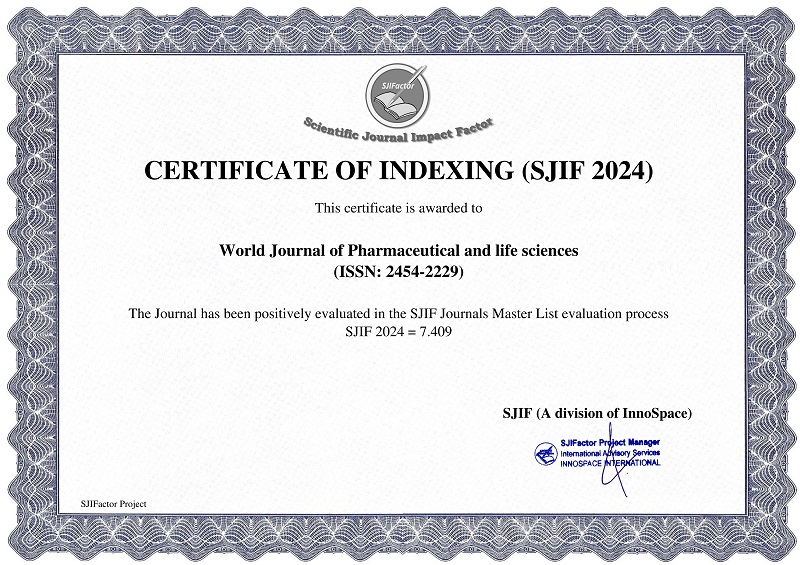 BEST PAPER AWARDS
World Journal of Pharmaceutical and life sciences Will give best paper award in every issue in the from of money along with certificate to promote research .
Best Article of current issue
Download Article : Click here