Abstract
CLASSICAL AND CONTEMPORARY CAUSES OF JANU SANDHIGATA VATA
Shereen Sreenivas*, Muralidhara, Sindhura A. S.
ABSTRACT
The treatment of any disease is initiated by knowing the relevant present and past history. This gives us insight into the causes and symptoms concerned. Though there are innumerable causes specific to the person/age /gender/habitat and the like in Ayurveda, a generalized idea about all the factors involved is necessary for the ideal diagnosis and treatment. The topic in context is Janu Sandhigata Vata wherein a clinical study was carried out with 40 patients. Janu Sandhigata Vata is one among the Gatavata mentioned under the context of Vatavyadhi in the Samhittas. It can occur due to Dhatukshaya or Avarana. It is correlated to Osteoarthritis (OA) due to the similarities in manifestation. Osteoarthritis (OA) is a very common chronic disease that affects all joint tissues, causing progressive irreversible damage and finally, the failure of the joint. The various Nidana or causes ruled in favour for the formation of the disease are being considered for the study in this article.
[Full Text Article]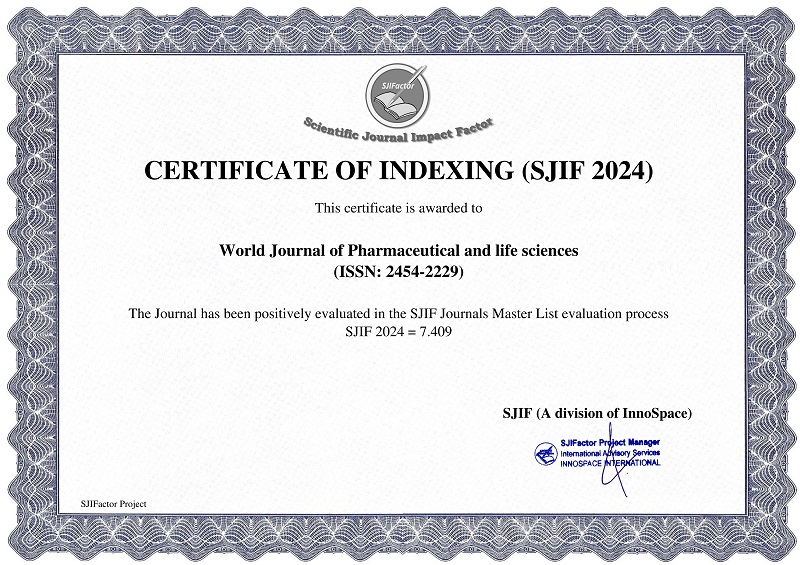 BEST PAPER AWARDS
World Journal of Pharmaceutical and life sciences Will give best paper award in every issue in the from of money along with certificate to promote research .
Best Article of current issue
Download Article : Click here