Abstract
ASSESSMENT OF ANTIDEPRESSANT EFFECT OF LEAVES FROM PAULLINIA PINNATA ON MICE
Bakou Niangoran François*, B. A. Abdoulaye, Guiro Hamidou and Atayi E.
ABSTRACT
Objective: The aim of the present study is to evaluate the antidepressant-like effect of hydro alcoholic extract of leaves from Paullinia pinnata in mice. Materials and Methods: Mice were randomly divided into five groups (n = 5/group): control group (distilled water), standard group where Amitriptyline (20mg/kg b.w., IP) was used as standard drug and three test groups where three doses of the hydro alcohol extract of PP (50, 100, and 200 mg/kg) was used for two weeks treatment. To assess the antidepressant-like effect of PP forced swimming test (FST), tail suspension test (TST) and measurement of locomotor activity test (OFT) have been done in mice. Results: The results showed that a strong and dose-dependent antidepressant effects in different mice models. The main findings of the ML significantly reduced the duration of immobility times in the forced swimming test (p < 0.001). Likewise, the extract significantly decreased the immobility time in the tail suspension test (p < 0.001). Conclusion: The results of the present work suggest that a hydro alcoholic extract of Paullinia pinnata leaves may possess an antidepressant effect.
[Full Text Article]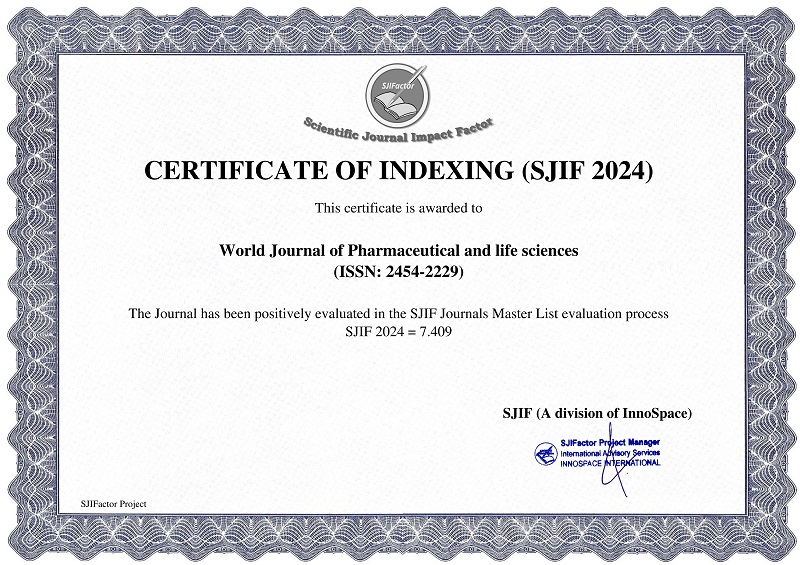 BEST PAPER AWARDS
World Journal of Pharmaceutical and life sciences Will give best paper award in every issue in the from of money along with certificate to promote research .
Best Article of current issue
Download Article : Click here