Abstract
EVALUATION OF BIOCHEMICAL INDICES AND HYPOGLYCERMIC EFFECT OF AZADIRACHTA INDICA ON ALLOXAN INDUCED DIABETIC RATS
Ikpeazu O.V.*, Igwe K.K. and Otuokere I.E.
ABSTRACT
Antidiabetic activity of Azadirachta indica, was checked. Twenty-five rats were used for the research and were grouped into five of five rats each. Groups 1 was the untreated diabetic group while groups 2, 3 and 4 were the treatment which received 200, 400 and 800 mg/kg body weight of the A. indica extract respectively. Group 5 was the positive control and was administered known antidiabetic drug Glibenclamide. Diabetes was induced in the rats with alloxan monohydrate. A. indica, extract was administered to rats for 14 days orally by intubation, thereafter were sacrificed and blood collected from heart for analysis. Effect of A. indica, extract was checked on blood glucose level for possible hypoglycermic potential and Biochemical parameters. All results in treatment groups were compared with the untreated diabetic group at statistical confidence of p<0.05. Hypoglycermic effect was recorded at Day 1, Day 3 and Day 7 of the treatment. Result shows that A. indica extract reduced blood glucose level in the test groups as dose of extract increased. A. indica, demonstrated hypoglycermic effect. Biochemical indices indicated liver, kidney and cardiac protective effect.
[Full Text Article]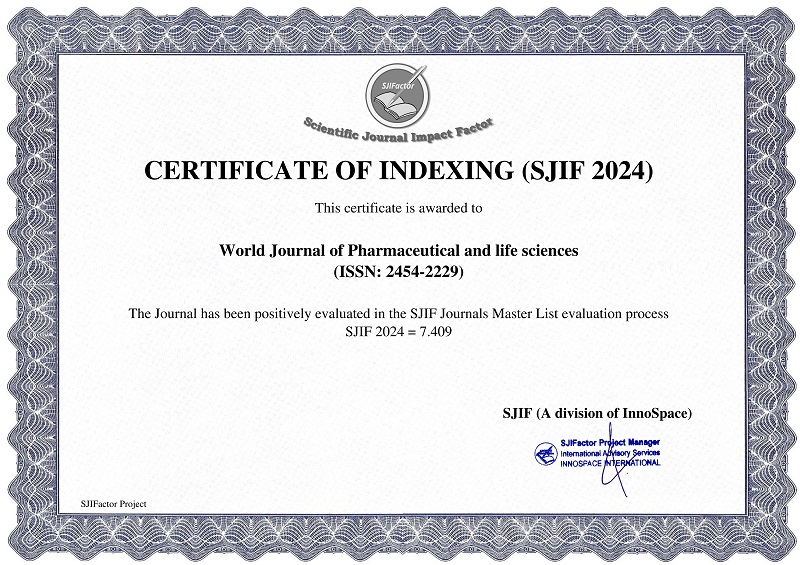 BEST PAPER AWARDS
World Journal of Pharmaceutical and life sciences Will give best paper award in every issue in the from of money along with certificate to promote research .
Best Article of current issue
Download Article : Click here