Abstract
CORONAVIRUS DISEASE: HOW CAN AFRICAN PHARMACISTS RESPONDS TO FUTURE OUTBREAKS?
Lukman Lawal* and Meenakshi K. Chauhan
ABSTRACT
Coronavirus disease popularly known as COVID-19 is an pandemic disease caused by a newly discovered corona virus. The first report was confirmed on December 2020 in Wuhan, China. The initial confirmed case in Africa was found in Egypt, and the first confirmed case in sub-Saharan Africa was found in Nigeria. The lack of awareness by the healthcare professionals combined with the least responses from international community are major factors for the spreading of the disease. In the conditions of this outbreak, there is a lack to direct attention the roles and responsibilities of pharmacists, mostly in the African healthcare surrounding. In addition, the essential of diagnostic kits for the detection of the infection as well as pharmacists' consciousness of the present curative regimen are suggested. The health professionals have notified the disastrous virus could cause in Africa, where most hospitals are in need of equipment and well trained staffs. Corona virus has since spread to 52 African countries, but despite a steady rise in the number of confirmed cases, the continent continues to lag behind the global curve for infections and deaths. The continent has imperfect equipments to manage a crucial health disaster and is fight to test enough to detects virus occurrence. While the lockdowns are being noticed all over the universe and the national level pharmacy professionals are working as frontline part, this editorial draw attention to the role of pharmacists in the management of Corona virus 2019 pandemic.
[Full Text Article]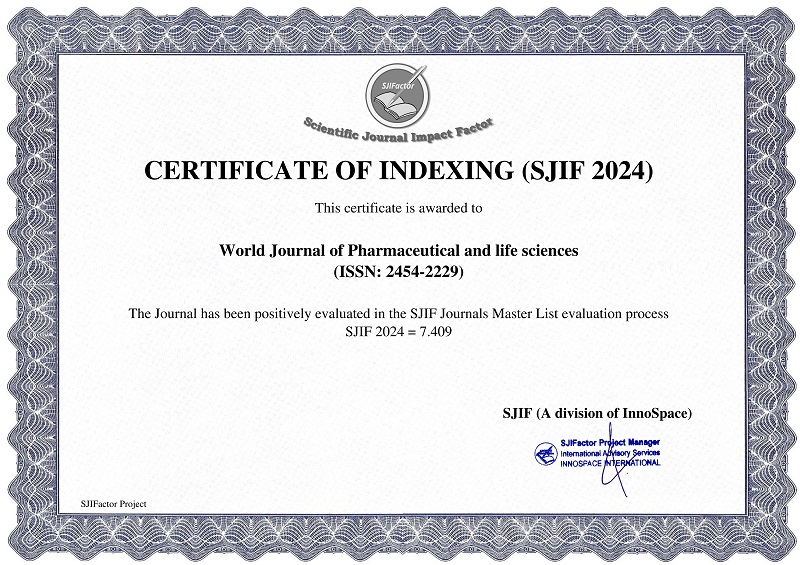 BEST PAPER AWARDS
World Journal of Pharmaceutical and life sciences Will give best paper award in every issue in the from of money along with certificate to promote research .
Best Article of current issue
Download Article : Click here