Abstract
ENHANCEMENT OF COFFEE PRODUCTION BY USING ADVANCED FORMULATION OF ZINC SOLUBILISING THIOBACILLUS sp. IN PULNEY HILLS
Yuvarani S.*, Soundararajan S., Thiribhuvanadharshini P., Premalatha R., Nithya R. and Vijayaraghavan R.
ABSTRACT
Zinc is one of the eight significant micronutrients needed for the healthy growth replication of crop plants. Zinc is a micro nutrient essential for all living organism with a key role in growth, development and defence. Micronutrients role in plant defence are predominantly documented for Mn, Cu, Fe and Zn. There zinc seems to be a major player in both plant and animal immune system. Deficiency of Zinc is world wide spread problem in agricultural fields. Competition for zinc affects the outcome of the host – attacker interaction in both plant and animal system. Hence, we provide a clear framework of the Zinc solubilisation by Thiobacillus isolates as an immense important in Zinc nutrition to plant majorly in field having alkaline and Rhizosphere soil. The four bacterial colonies with different colony morphology were selected from different plates for Gram's staining and biochemical tests (Citrate, MR-VP, Oxidase, Catalase,) and further Plant growth promoting activity (PGPA) (zinc solubilisation). Zinc solubilisation medium contain 0.1% of zinc oxide was used and based on the solubilisation isolates are selected for zinc solubilisation efficiency for multiple plant growth promoting traits. These plant growth promoting traits can be exploited as a potential bio fertilizers.
[Full Text Article]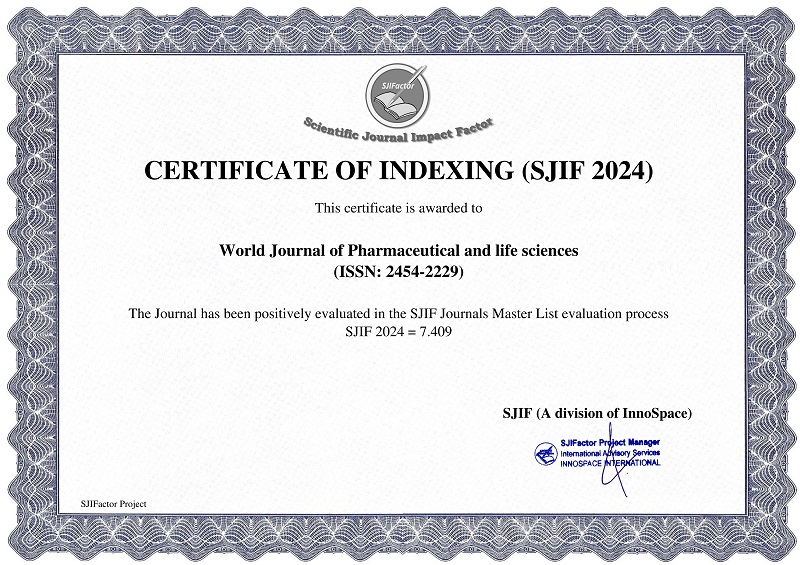 BEST PAPER AWARDS
World Journal of Pharmaceutical and life sciences Will give best paper award in every issue in the from of money along with certificate to promote research .
Best Article of current issue
Download Article : Click here