Abstract
PRELIMINARY PHYTOCHEMICAL ANALYSIS AND CHARACTERIZATION OF BRYUM CORONATUM SCHWAGER
*Wadavkar D. S., Mulay A. V., Palave S. A. and Chavan S. J.
ABSTRACT
The present investigation was focused on the preliminary phytochemical and Fourier Transform Infrared Spectral analysis of Bryum coronatum Schwager. The organic solvent extracts (ethanol) from the aerial part of Bryum coronatum were tested for the availability of alkaloids, phenols, flavonoids, saponins, steroids, tannins and terpenoids and glycosides. Flavonoids and steroids detected from moss species have commercial interest in pharmaceuticals companies for the manufacturing of the new drugs for treatment of various diseases. The FT-IR spectrum showed the presence of alcohols, nitrite group, carbonyl groups, phenolic esters, ethers, aromatic compounds, alkyl halides and alkene. In GC-MS analysis twenty different compounds were detected. The results confirm the fact that this moss posses' important bioactive constituents useful for our health so further scientific investigation is needed.
[Full Text Article]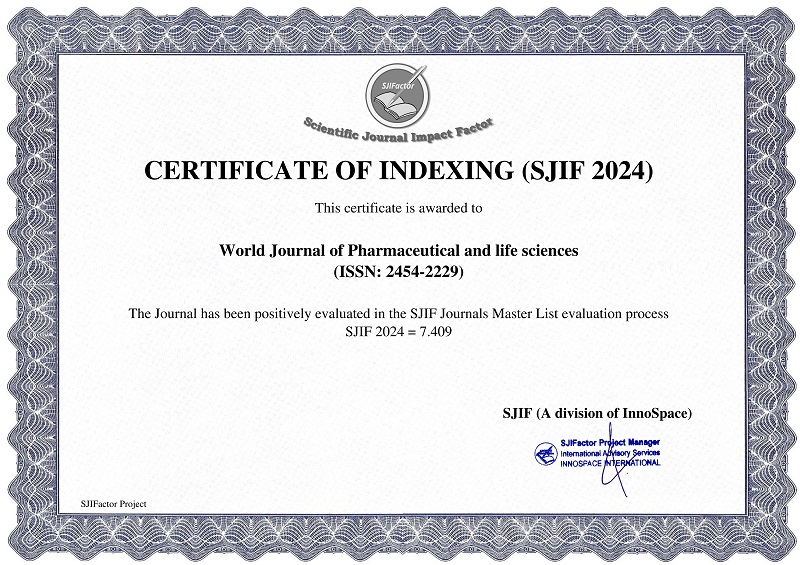 BEST PAPER AWARDS
World Journal of Pharmaceutical and life sciences Will give best paper award in every issue in the from of money along with certificate to promote research .
Best Article of current issue
Download Article : Click here