Abstract
PLANT MEDIATED SYNTHESIS OF SILVER NANOPARTICLES BY USING DRIED STEM POWDER OF MUNTINGIA CALABURA L. MEDICINAL PLANT
Palave S. A.*, Wadavkar D. S. and Gawade B. B.
ABSTRACT
Muntingia calabura L. a monotypic genus of family Muntingiaceae is used as medicinal herb, by native people for various medicinal purposes. It is commonly known as Kanakshikha in local language. The synthesis of nanoparticles was confirmed by change in colour from pale green to reddish brown further, a peak between 220-330 nm. was obtained on UV-Vis spectrometer which confirmed the biosynthesis of silver nanoparticles. XRD have been used to investigate the morphology of prepared AgNPs. The peaks in XRD pattern are associated with that of face-centered-cubic (FCC) form of metallic silver. FTIR was performed to identify the functional groups of peaks situated at 2277.20 cm-1 (C=N bond), 1629.92-1 (C=N bond), 1426.42cm-1 (S=O bond), 1315.51cm-1 (S=O), 1249.93cm-1 (N-O), 1157.34cm-1 (NO2), 1098.51cm-1 (C-O), 1052.21cm-1 (C-O), 1018.46cm-1 (C-N), 959.63cm-1(C-H). Which form a layer covering AgNPs and stabilize the AgNPs in medium.
[Full Text Article]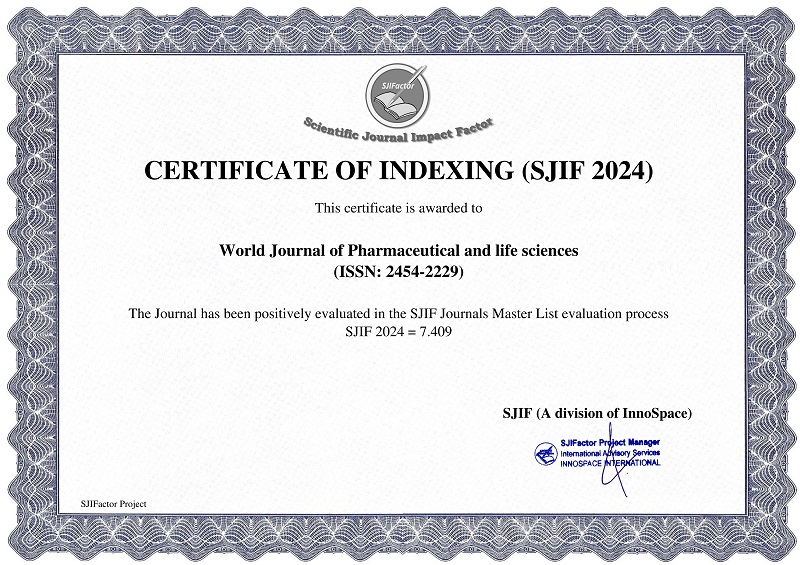 BEST PAPER AWARDS
World Journal of Pharmaceutical and life sciences Will give best paper award in every issue in the from of money along with certificate to promote research .
Best Article of current issue
Download Article : Click here