Abstract
ASSESSMENT OF THE EFFECT OF EXTRACTS FROM DISTEMONENTHUS BENTHAMIANUS BAILL (FABACEAE) SHEETS ON BIOCHEMICAL PARAMETERS OF DIABETIC RATES.
Adélaide Ryta Mande Doue, Cassime Tiemoko*, Justine Tiekpa Wawa, Alain Dit Philippe Bidie and Noël Guédé Zihiri
ABSTRACT
This work deals with the effect of aqueous and hydroethanolic extracts of stem bark of Distemonenthus benthamianus, family Fabaceae, on the evolution of some biochemical parameters in Wistar rats made diabetic with alloxane. Natural substances and compounds have shown great potential in the treatment of human diseases such as cancer, diabetes and infectious diseases. The stem bark of Distemonenthus benthamianus was harvested, dried, crushed and subjected to aqueous and hydroethanolic (70/30) extraction. After chemical screening the various extracts of Distemonenthus benthamianus at different doses (100 and 200 mg/kg) and amarel were administered by daily gavage for twenty-eight (28) days to forty (40) rats of albino wistar strains made diabetic with alloxane at a dose of 120 mg/kg; these rats were divided into eight batches of five rats each. At the end of treatment the animals were sacrificed and blood glucose, insulin, renal, lipid and cardiac parameters were determined. The phytochemical test of the different extracts (aqueous and hydroethanolic) of Distemonenthus benthamianus revealed the presence of tannins, alkaloids, glycosides (sterols and triterpenes), polyphenols, flavonoids, quinones. The results of the pharmacological study obtained show an improvement of the various biochemical parameters of rats treated with the hydroethanolic extract of Distemonenthus benthamianus at the dose of 200 mg/kg. Distemonenthus benthamianus could delay the onset of degenerative complications of diabetes.
[Full Text Article]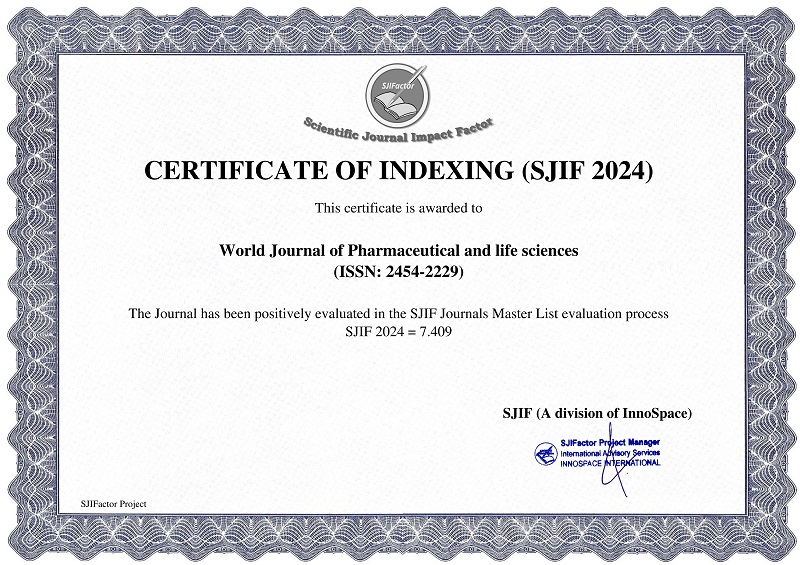 BEST PAPER AWARDS
World Journal of Pharmaceutical and life sciences Will give best paper award in every issue in the from of money along with certificate to promote research .
Best Article of current issue
Download Article : Click here