Abstract
ISOLATION AND IDENTIFICATION OF FUSARIUM SPP. ASSOCIATE WITH POTATO TUBER DRY ROT DISEASE: GROWTH RATE AND PATHOGENICITY IN RELATION TO ELICITATION OF PHYTOALEXINS IN INOCULATED TISSUES.
Maha H. Mohamed and *Dr. Mostafa H. Mostafa
ABSTRACT
Potato tubers collected from different stores in Cairo Governorate and stored at laboratory conditions showed the occurrence of dry rot symptoms on high proportion of them accompanied by appearance of whit mycelia mats characterized Fusarium spp. Such fungi were isolated, purified and identified according to their morphological characters and identified as F. solani (5 isolates), F. semitectum (4 isolates), F. equisiti (5 isolates), F. oxysporum (5 isolates) and one unknown species. Pathogenecity test of such isolates on potato tuber slices Balmivore cv. indicated the presence of different degrees of virulence between isolates either belong to the same species or not. In general F. solani isolates showed the higher degree of verulance. Correlation coefficient between fungal growth and disease severity reached – 0.0624 indicating the absence of any relation between both phenomena. The ability of such isolates as phytoalexin elicitors was studied. Some isolates especially related to F. solani appeared more active than the others which belong to another Fusarium spp. Correlation coefficient between disease index and number of phytoalexin bands reached -0.15. However, it was noticed that Fusarium solani isolates which showed high disease index elicit the higher account bands of phytoalexins which mean that these compounds have relation with disease incidence.
[Full Text Article]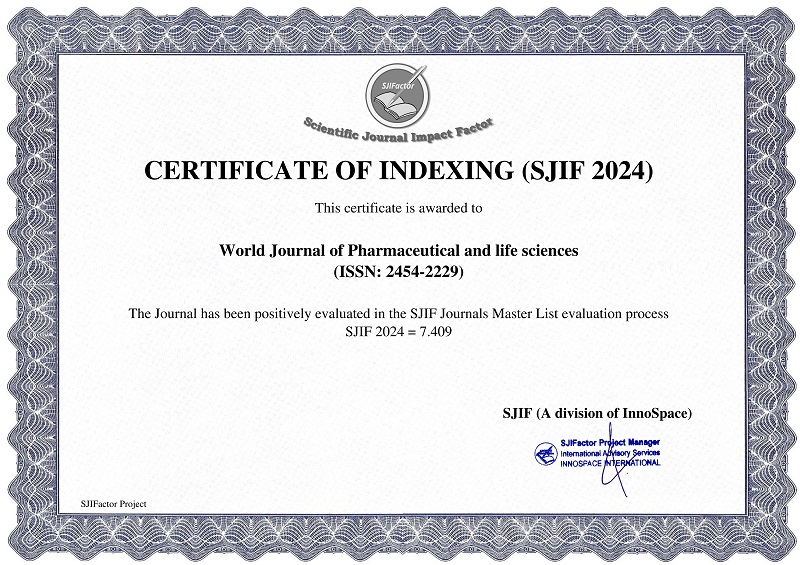 BEST PAPER AWARDS
World Journal of Pharmaceutical and life sciences Will give best paper award in every issue in the from of money along with certificate to promote research .
Best Article of current issue
Download Article : Click here