Abstract
PERIMORTEM BEDSIDE HYSTERECTOMY: A SURVIVED PATIENT AND HER BABY AFTER FOUR CARDIAC ARRESTS. DOES EPINEPHRINE MAKE A CHANGE IN AMNIOTIC FLUID EMBOLISM MANAGEMENT?
Amir M. Shabana and Akram H. Guirgis*
ABSTRACT
(Reviewer #1 abstract related, revised and replied comment no 3) In the labour room, our patient suddenly collapsed followed by immediate cardiac arrest during her labour course. Cardiopulmonary resuscitation done immediately including perimortum bedside CS followed by hysterectomy. Having an adult patient in labour made high suspicion about amniotic fluid embolism as a first possibility especially when we got the first severely deranged coagulation profile done within ~15 minutes of patient collapse. During her critical care journey, she had 3 successive cardiac arrests, a bedside perimortem CS and hysterectomy, 3 successive laparotomies in the following days. A fourth cardiac arrest happened 2 hours following cessation of epinephrine infusion. Epinephrine infusion was reinstituted after regaining spontaneous rhythm and weaned gradually afterwards. Amniotic fluid embolism (AFE) is a rare obstetric catastrophe which represents about 15 % of all maternal deaths, incidence is about 7 per 100.000 births. Till now there is no definitive diagnostic tool hence, its diagnosis depends mainly on exclusion. An immunogenic theory describes the pathophysiology of AFE as an anaphylactic reaction, hence the name of "anaphylactoid syndrome of pregnancy". We suggest that properly timed aggressive resuscitation comprising perimortum bedside CS, then hysterectomy, plus the use epinephrine played a very important role in the successful outcome of our patient and her baby.
[Full Text Article]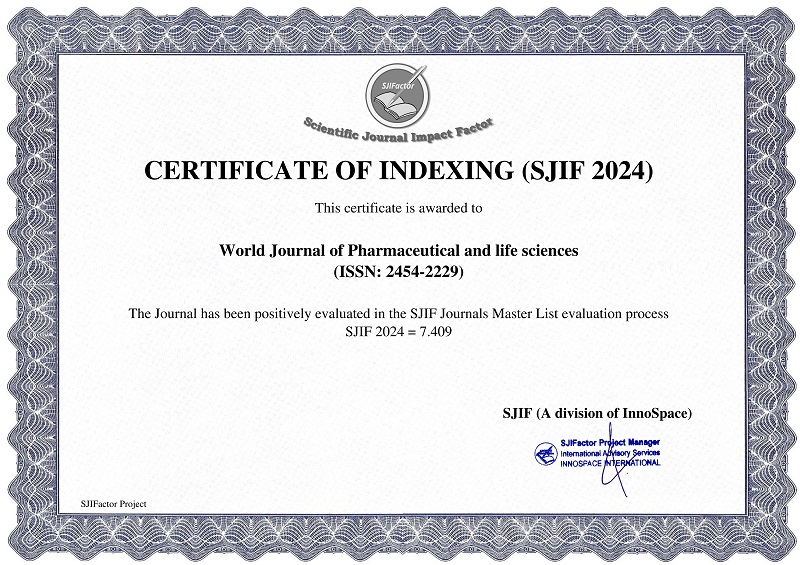 BEST PAPER AWARDS
World Journal of Pharmaceutical and life sciences Will give best paper award in every issue in the from of money along with certificate to promote research .
Best Article of current issue
Download Article : Click here