Abstract
GC-MS ANALYSIS AND ANTIMICROBIAL ACTIVITY OF ANETHUM GRAVEOLENS (UMBELIFERAE) ESSENTIAL OIL
Abdel Karim M.*, Osman A., Amira A. E. Satti and Al-Hafez M.
ABSTRACT
Information of the constituents of medicinal plant is of great importance since medicinal plants are endowed with diverse phytochemicals with potential medicinal applications. This study was aimed to investigate the chemical constituents of the medicinally important Anethum graveolens volatile oil, and to evaluate its antimicrobial activity. 30 components were detected by GC-MS analysis. Major constituents are: D-carvone (37.80%); D-limonene (18.13%) and apiol (16.16%). The antimicrobial activity of the oil was evaluated via disc diffusion method against five standard human pathogens (Gram positive: Staphylococcus aureus and Bacillus subtilis; Gram negative: Escherichia coli and Pseudomonasa aeruginosa and the fungi Candida albicans). The oil showed significant activity against Escherichia coli, Pseudomonasa aeruginosa and Bacillus subtilis. It also showed good activity against Staphylococcus aureus.
[Full Text Article]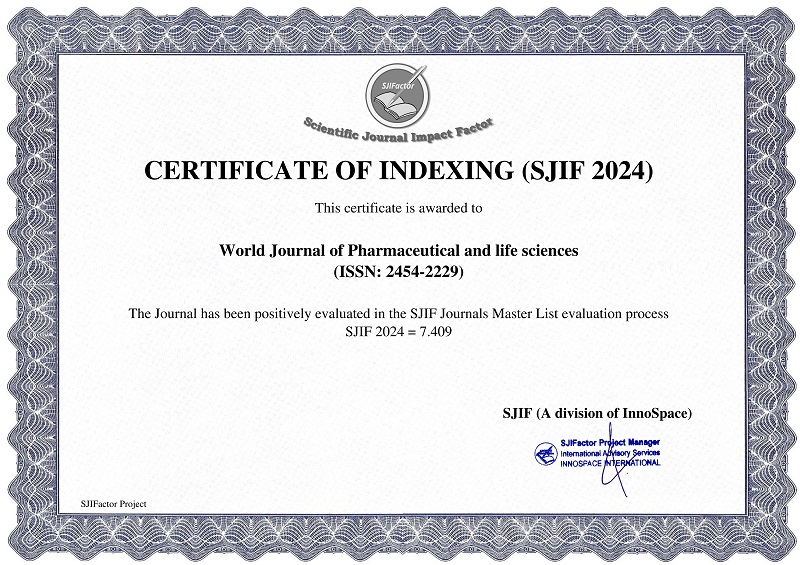 BEST PAPER AWARDS
World Journal of Pharmaceutical and life sciences Will give best paper award in every issue in the from of money along with certificate to promote research .
Best Article of current issue
Download Article : Click here