Abstract
FOOT REFLEXOLOGY AS A SUPPORTIVE THERAPY FOR DIABETES- A COMPARATIVE ANALYSIS OF BLOOD GLUCOSE LEVELS USING VARAM REFLEXO-STUMP FOOTWEAR
*Dr. Prof. M. Vijay Anand MDS D. Acu, *Dr. G. Sameeruddin Ahamed BDS D. Acu, *Dr. J. Roshini BDS D. Acu, *Dr. N. Naveen Raj BDS D. Acu.
ABSTRACT
Background: Reflexology, an ancient practice over the years well-known as a key therapeutic element involves applying pressure at specific points for treating many ailments in the human system. Most of these reflex points are found in the hands and feet. Foot reflexology in recent days has proven to be effective against endocrine and metabolic diseases specifically in controlling blood sugar levels. Aim: To reduce blood glucose levels using Varam-reflexology stump footwear as a supportive therapy. Objective: To evaluate the random blood glucose level using reflexology stump footwear in different time intervals. Material and Methods: The present observational comparative study was conducted onrandomly selected 9 (Nine) diabetic patients. Random blood sugar levels were noted at the time of visit examined by categorizing them into three groups A, B, C by usage of footwear at different intervals of 15, 30 and 60mins respectively. After the waiting period of 30, 60 and 90mins correspondingly final random blood sugar levels were recorded. Chi-square test, Wilcoxon Signed-Rank test analyzes were applied to the data, considering a significance level of 1% (P value <0.01). Results: Random blood glucose level recorded initially revealed mean value of 229.33mg/dl with S.D of 76.478 mg/dl and S.E of 25.49. After therapy the mean random blood glucose level was observed to be 185.77g/dl with S.D of 77.56 mg/dl and S.E of 25.85 in relation to different time intervals. Statistical difference was observed with f-ratio value of 24.93842 and p-value is < .00001(p < .01*) when comparative analysis was performed between the three groups. Wilcoxon Signed-Rank test showed mean difference of 123.33 with significance at p<0.01. Conclusion: Based on the results of this comparative study, either as supportive therapy to conventional treatment or as first-line therapy, foot reflexology by using Varam-reflexology stump footwear can contribute in improving the scores of blood sugar level among diabetic individuals.
[Full Text Article]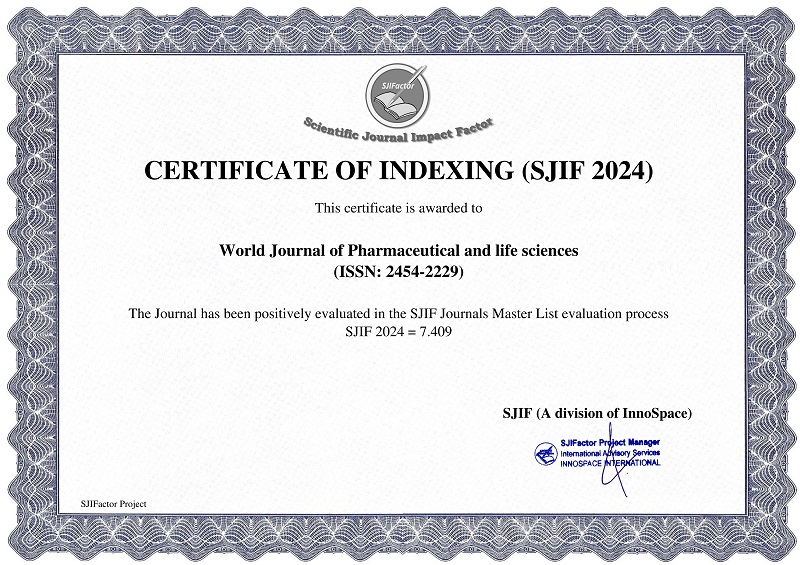 BEST PAPER AWARDS
World Journal of Pharmaceutical and life sciences Will give best paper award in every issue in the from of money along with certificate to promote research .
Best Article of current issue
Download Article : Click here