Abstract
IN VITRO ALPHA AMYLASE INHIBITORY EFFECT AND ANTIOXIDANT ACTIVITY BY PEEL AND SEED EXTRACTS OF Persea americana.
Smitha Grace S.R*, Jyoti Bala Chauhan and Chaithra Ratnakar Jain
ABSTRACT
Over the last century human life style and food habits have drastically changed which has lead to various chronic diseases. Diabetes milletus is one such disease which is causing serious problems to human health. It is a metabolic disorder characterized by hyperglycemia, due to defect in insulin secretion, insulin action or both The inhibition of carbohydrates hydrolysing enzymes such as alpha amylase can be important strategy in the postprandial blood glucose level in patients with type II diabetes & Medicinal plants play an important role in management of diabetes milletus. The avocado (Persea americana) belongs to the family Lauraceae is used as herbal medicine from ancient time, the methanolic Peel & Seed extracts of Persea americana were tested for Total phenolic content, DPPH assay & alpha amylase inhibition. Appreciable alpha amylase inhibition was seen in both the extracts with an IC50 values of 36.02±0.23?g/ml & 59.34± 1.01 ?g/ml respectively when compared with acarbose 82.42±0.33?g/ml, the extracts possessed phenolic content of 0.533mg GAE/mg of sample for seed and 0.600mg GAE/mg of sample for peel, The free radical scavenging activity of methanolic seed and peel extract of Persea americana was found to increase with increase in concentration as 96.87% and100% at 200?l concentration. This study supports that Methanolic Seed & Peel Extracts of Persea americana exhibits estimable antioxidant activity & has the potency to inhibit alpha amylase and thus suggesting the successful use of plant chemicals as "Drug Targets" in management of Diabetes Milletus.
[Full Text Article]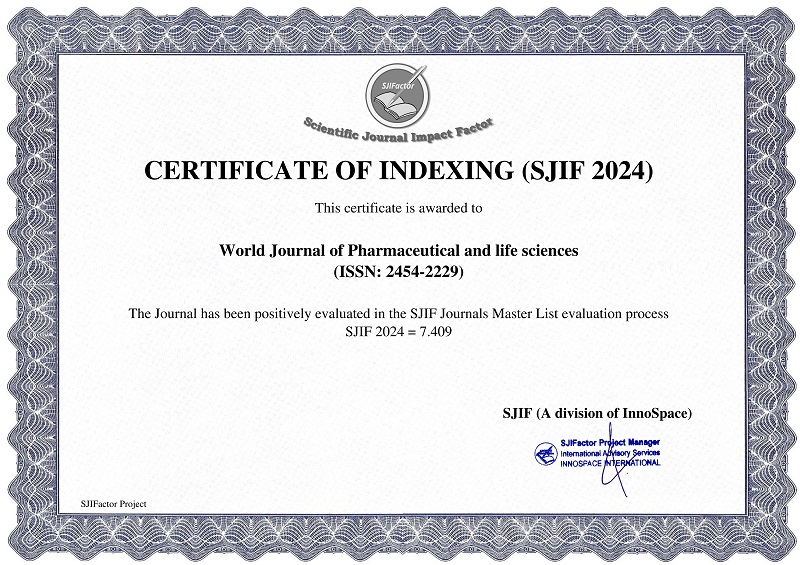 BEST PAPER AWARDS
World Journal of Pharmaceutical and life sciences Will give best paper award in every issue in the from of money along with certificate to promote research .
Best Article of current issue
Download Article : Click here