Abstract
SEASONAL VARIATION OF VIT D AND PTH LEVELS IN LATE ADOLESCENTS
Walulkar M. S., Walulkar S. M.* and Paikrao V. M.
ABSTRACT
Introduction: Vit D is essential for the skeletal metabolism, muscle function, calcium homeostasis & immune system. Vitamin D deficiency is epidemic in India despite of plenty of sunlight. Most of the Indian studies point to low levels of vitamin D in the population. Aims: Here we aimed to study and determine the seasonal variation of vit D and PTH status in late adolescents aged between 17 to 19yrs. Methodology: The study was conducted in 42 apparently healthy medical college students of Nagpur region aged between17 to19 yrs. They were studied in the winter season (Nov- 2017) and six months later in summer (April 2018). At each time point their height and weight were measured. Blood was collected to analysis vit D & PTH levels by Immunoenzymetric assay ELISA. Result: Shows that Mean±Standard deviation of Vit D concentration which was 44.90 ± 12.7 ng/ml in summer & 44.25±4.74 in winter which is not statistically significant (p>0.05). PTH was slightly increased by mean of 29.69±9.30 in winter as compared to summer (27.17 ± 8.89). But this difference between two seasons was not statistically significant (p>0.05). No difference in BMI of both the seasons. Weak correlation was seen between vit D & PTH in winter. As vit D was increased, there was decrease in PTH level in summer. There was no correlation found between vit D & PTH in summer.83.33% and 97.62% of subjects had sufficient levels of vit D in winter and summer season respectively.16.67% and 2.38% of subjects had insufficient levels of vit D in winter and summer respectively. Insufficient level of Vit D was more in winter. No deficiency was found in both the seasons. Conclusion: From above study we concluded that no significant change in vitamin D levels in different seasons but there was slight change in PTH levels in both the seasons. That means effect of season is slightly more on PTH level as compared to vit D levels. Key words: Vit D, PTH, Seasonal variation.
[Full Text Article]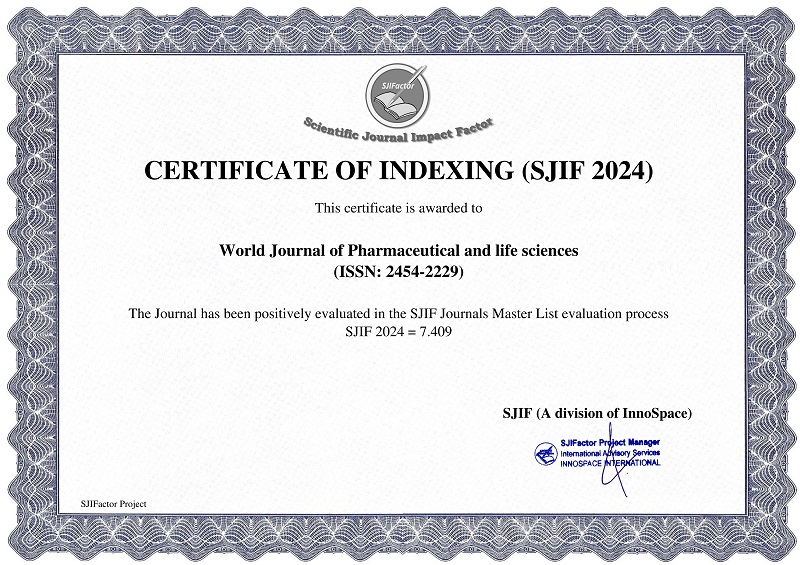 BEST PAPER AWARDS
World Journal of Pharmaceutical and life sciences Will give best paper award in every issue in the from of money along with certificate to promote research .
Best Article of current issue
Download Article : Click here