Abstract
A BRIEF STUDY ON TRANSDERMAL PATCHES: AN OVERVIEW
Aparna P.*, Subash Chandran M.P., Prasobh G.R., Remya S.B.
ABSTRACT
Transdermal drug delivery system was presented to overcome the difficulties of drug delivery mainly oral route. A transdermal patch is a medicated adhesive patch that is placed on the skin to deliver a particular specific dose of medication through the skin and into the bloodstream. It initiated to promote healing to an injured area of the any part of body. An advantage of a transdermal drug delivery route over other types of delivery system such as oral, topical, i.v., i.m., etc. is that the patch provides a controlled release of the medication into the affected individual, usually through either a porous membrane covering a reservoir of medication or through body heat melting thin layers of medication embedded in the adhesive. The main disadvantage to transdermal delivery systems from the fact that the skin is a very effective barrier, as a result, only medications whose molecules are small can easily penetrate the skin, so it can be delivered by this method.
[Full Text Article]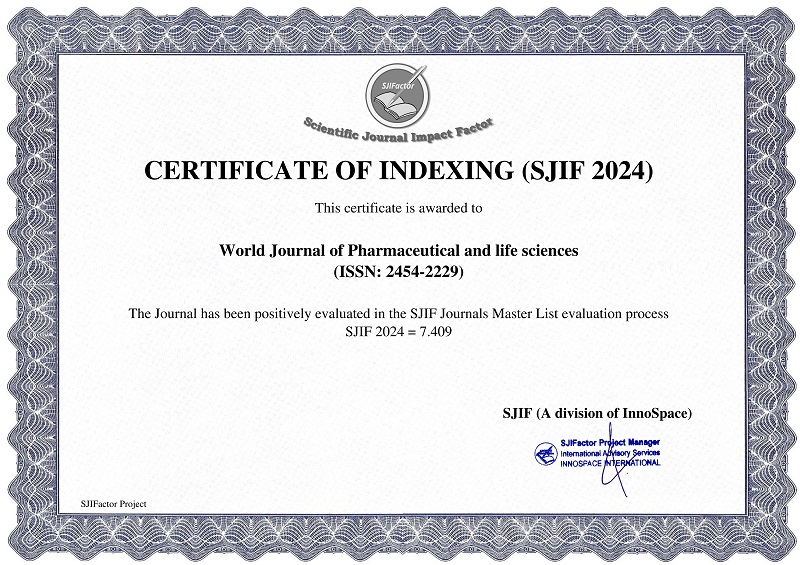 BEST PAPER AWARDS
World Journal of Pharmaceutical and life sciences Will give best paper award in every issue in the from of money along with certificate to promote research .
Best Article of current issue
Download Article : Click here