Abstract
EFFECT OF KHAYA SENEGALENSIS BARK AND OIL ON POST HARVEST FUNGAL AGENTS OF GROUNDNUT SEEDS ROT IN ADAMAWA STATE, NIGERIA
Channya F. K.*, Asama P. and Anjili S. M.
ABSTRACT
Standardized method of seed treatment is of prime importance in the production of groundnut. The study was to carry out control trial using bark extract (aqueous and ethanol) and oil (seed) of mahogany (Khaya senegalensis) on seven (7) isolated fungi from two groundnut genotypes (peruvian and valencia). The result shows that both mahogany bark and seed extracts are capable of inhibiting mycelial growth of all the isolates. There was no significant variation between the aqueous and ethanol bark extracts in-vitro, however the in-vivo test shows a significant difference between the aqueous and the ethanol bark extract in which the ethanol extract reduced growth of the pathogens more than the aqueous. For all the pathogens except Rhizopus stolonifer there was no growth between 50% to 100% concentration of the Khaya senegalensis oil in-vitro, however in-vivo control at 50% produced scanty to moderate growth for all the pathogens except Rhizopus stolonifer on peruvian, while there was full coverage on the oli seeds of valencia variety with Aspergillus niger and Rhizopus stolonifer having total coverage though Pseudaiiescheria boydii and Cylindrocarpon lichenicola were effectively inhibited and showed no growth at the 50 % and 100 %. Further research to focus on the quantifying the chemical constituents and formulation are suggested.
[Full Text Article]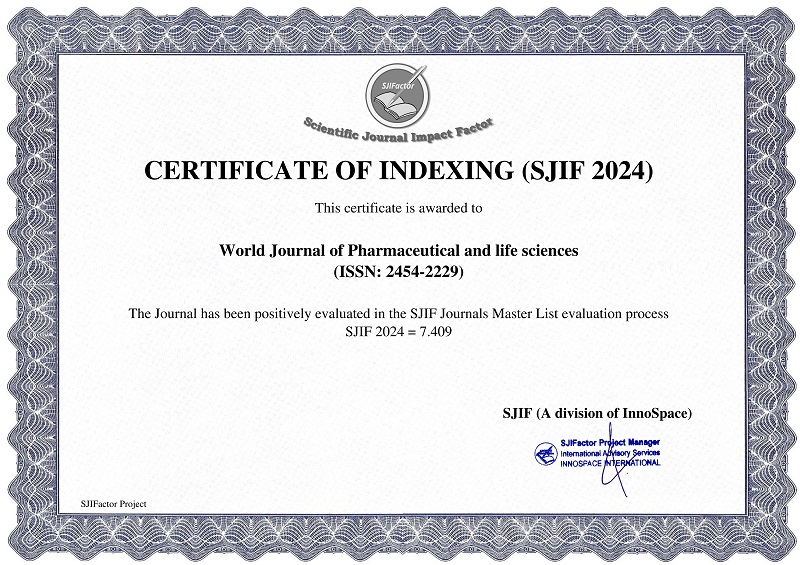 BEST PAPER AWARDS
World Journal of Pharmaceutical and life sciences Will give best paper award in every issue in the from of money along with certificate to promote research .
Best Article of current issue
Download Article : Click here