Abstract
A COMPARATIVE FOOT PRINT STUDY AMONG DIABETIC AND NON DIABETIC INDIVIDUAL
*Dr. M. Vijay Anand MDS, Dr. Sai Charan K. V., BDS, Dr. Francy Teena S., BDS, Dr. Mary Julie Prija, BDS, Dr. Vasu Priyan, BDS, Dr. Santhana Priya, BDS, Dr. Sameeruddin Ahamed G., BDS and Dr. Roshini A.
ABSTRACT
Diabetes is an endocrinal metabolic disorder with long term complications and also causes problems in circulation of blood, ulcer formation in foot etc., there are many methods known to prevent and control diabetes one among them which is gaining popularity these days is reflexology.[2,8] Foot reflexology has been proven to be effective against diabetes in recent days. As diabetes is caused by variation in insulin production and blood glucose levels.[3,4] This study aims to determine whether the diabetic individual achieve a required pressure in those target areas in foot which controls the organs of carbohydrate metabolism. Aim and Objective: to compare and describe the foot pressure spots between diabetics and healthy individuals using foot imprinter (semiquantitative foot imprint mat). Materials and Methods: control group composed 25 healthy individuals, test group 25 diabetic individual. Result: (+)-areas of high pressure, (-)-areas of moderate pressure, (?)-areas that indicate mild or poor pressure. Test group showed highly significant ARCH(?) when compared to control groups.
[Full Text Article]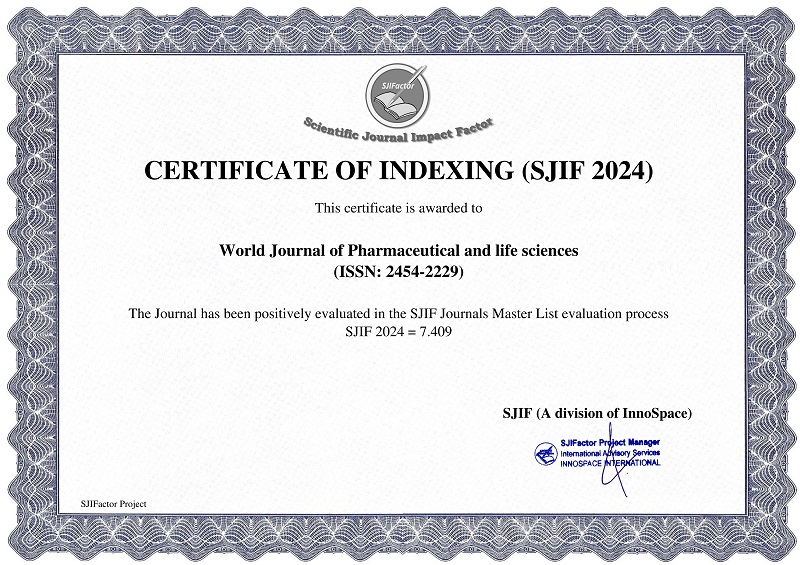 BEST PAPER AWARDS
World Journal of Pharmaceutical and life sciences Will give best paper award in every issue in the from of money along with certificate to promote research .
Best Article of current issue
Download Article : Click here