Abstract
TO COMPARE THE EFFECTIVENESS OF RESIN MODIFIED GIC AND CALCIUM HYDROXIDE (DYCAL) AS SEALANTS FOR INDIRECT PULP THERAPIES WITH PARTIAL EXCAVATION IN TREATMENT OF DEEP CARIOUS LESION.
Dr. Konark and Dr. Anju Singh*
ABSTRACT
Objective: To compare the effectiveness of Resin modified GIC and Calcium Hydroxide (Dycal) as sealants for Indirect pulp therapies with partial excavation in treatment of deep carious lesion. Method and Materials: A total of 300 school children were screened for deep carious lesion involving permanent molars. The preformed patient information and patient record form was explained to both the child and the accompanying parent. Cavity was accessed with a 329 carbide bur at high rotation and carious tissue involving the lateral and dentino-enamel junction was completely removed with smooth spherical burs at low speed were done in 1st visit After a period of 90 days, history and examination of the tooth in question was carried out by recording the status of restoration, any signs and symptoms indicating the progress of the carious lesion were recorded. A second post operative periapical radiograph was taken for each tooth in the 2nd visit. Results: Analysis of the baseline group and the analysis of the experimental group were done at 3 months interval. In overall study there were 21 subjects who reported no level of pain in pre examination and in post examination it was incremented by 19.04% to 25 subjects, The result was significant (p =.011) for RMGIC group. In Control group 44.4% changed their color from yellow to light brown, 22.2% changed color from light brown to dark brown and single case changed color from yellow to dark brown. Conclusion: More extensive study in term of time period and sample size may be useful for further research in his field.
[Full Text Article]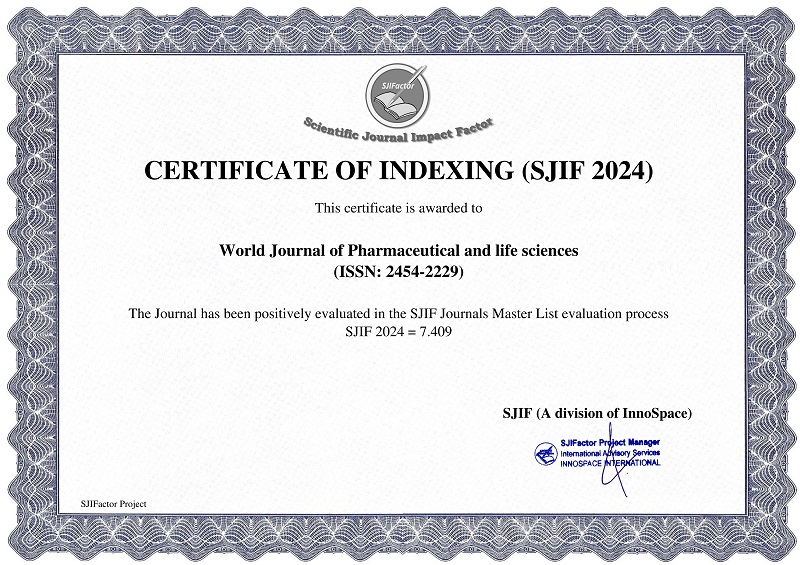 BEST PAPER AWARDS
World Journal of Pharmaceutical and life sciences Will give best paper award in every issue in the from of money along with certificate to promote research .
Best Article of current issue
Download Article : Click here