Abstract
PHARMACOLOGICAL SCREENING OF TRADITIONAL SIDDHA POLYHERBAL FORMULATION ASHUWATHI CHOORANAM GIVEN FOR PCOS
Devaki R.*, Santhosh Kumar R., Rajamma Devi and Velpandian V.
ABSTRACT
This Siddha drug "Ashuwathi Chooranam" is yet remained unexplored for its exact pharmacological values in terms of scientific research. To fill these scientific lacunae, the present work was undertaken to standardize Ashuwathi chooranam (AC) to validate through pharmacological screening in animal model. Group I: Control rats; Group II: Letrozole induced polycystic ovarian syndrome rats (PCO) where letrozole was given orally and daily in a dose of 1 mg/kg dissolved in 0.9% NaCl solution for 21 days; Group III: Clomiphene received group. IV. Polycystic ovarian syndrome rats subjected to Ashuwathi chooranam (100mg) V. Polycystic ovarian syndrome rats subjected to Ashuwathi chooranam (200mg) orally for three weeks after the induction of polycystic ovarian syndrome. Plasma levels of hormones, fasting glucose and fasting insulin were measured. Serum insulin level when measured in all group of animals were increased significantly in untreated PCOS rats (***p<0.001). Treatment of AC caused a decrease in insulin level as compared to PCOS group (p<0.001). Iincreasing the doses of Ashuwathi chooranam (200mg) all rats showed improved cyclicity and reverted back to normal cycle. AC at higher doses (100 mg and 200 mg) at 30 days of treatment, number of peripheral cysts significantly decreased and increased normal growing follicles; indicating normal ovulation due to functional ovary. The hormonal assay was done by ELISA method. It showed that there is considerable increase in the FSH and estradiol hormones and AC possess the antioxidant activity from DPPH assay. AC has magnificent ovulogenic activity over PCOS (Soothaga vayu) in female.
[Full Text Article]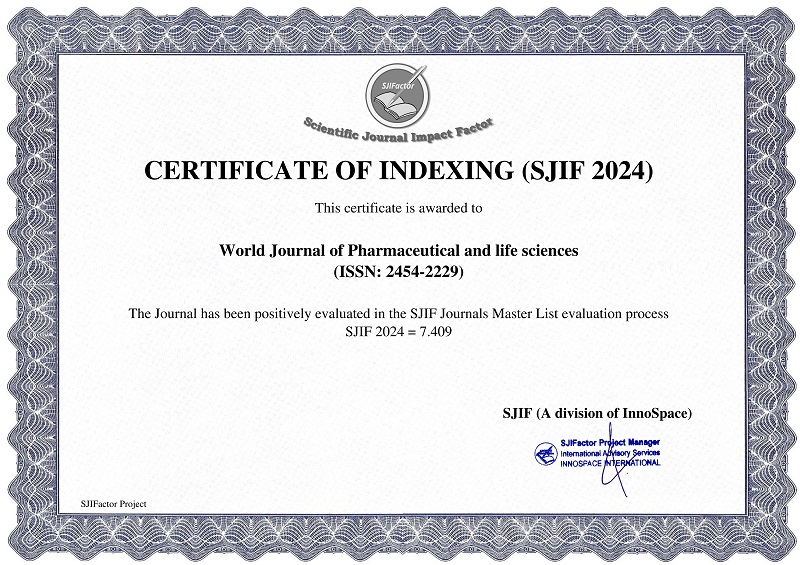 BEST PAPER AWARDS
World Journal of Pharmaceutical and life sciences Will give best paper award in every issue in the from of money along with certificate to promote research .
Best Article of current issue
Download Article : Click here