Abstract
CONTROLLED DRUG DELIVERY : AN UPDATED REVIEW
Namita N. Phalke*, Badadare S. S and Wagh A. A.
ABSTRACT
Controlled release drug delivery systems provide uniform concentration of drug to the absorption site and thus allow the maintenance of plasma concentration within the therapeutic range which minimizes not only the side effects but also the frequency of administration. Generally controlled release products administered by any route are design such that rate of drug absorption should be equal to rate of drug elimination. There are different types of controlled drug delivery system. The development or selections of system further depend up on the physicochemical and pharmacological properties of active pharmaceutical ingredient. Controlled release products provide an advantage over conventional dosage forms by optimizing bio-pharmaceutics, pharmacokinetic and Pharmacodynamics properties of drugs in such a way that it reduces dosing frequency to an extent that once daily dose is sufficient for therapeutic management through uniform plasma concentration providing maximum utility of drug with reduction in local and systemic side effects and cure or control condition in shortest possible time by smallest quantity of drug to assure greater patient compliance.
[Full Text Article]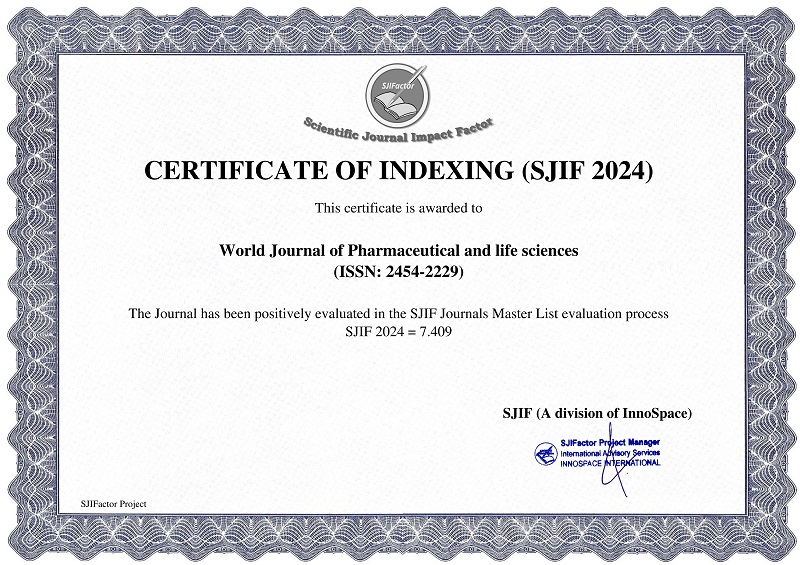 BEST PAPER AWARDS
World Journal of Pharmaceutical and life sciences Will give best paper award in every issue in the from of money along with certificate to promote research .
Best Article of current issue
Download Article : Click here