Abstract
PERCUTANEOUS CORONARY INTERVENTION BY BIORESORBABLE SCAFFOLDS: ABOUT TWO CASES AT THE CARDIOLOGY DEPARTMENT OF THE ARISTIDE LE DANTEC HOSPITAL-SENEGAL.
Hariniaina Ravaoavy*, Joseph Salvador Mingou, Mouhamadou Bamba Ndiaye, Simon Antoine Sarr, Fatou Aw, Malick Bodian, Adama Kane, Maboury Diao and Serigne Abdou Ba.
ABSTRACT
The Bioresorbable Vascular Scaffold (BVS) is a transitional support for the vessel, allowing it to heal and return to a natural state after resorption. We studied two patients who underwent percutaneous coronary intervention (PCI) with a BVS in the cardiology unit of the teaching hospital Aristide Le Dantec, Dakar Senegal. The first patient was a 76-year-old male with several cardiovascular risk factors. He presented with an ST-segment elevation myocardial infarction within thrombolysis delay. Coronarography showed a sub-occlusion of the left anterior descending artery (LAD). A PCI using a BVS was performed with good clinical outcome and no intra-stent restenosis after 6 months. The second was a 43-year-old woman with no cardiovascular risk factors. She presented with the same clinical case as the first patient. A PCI using a BVS was performed with good clinical outcome but got complicated with an intra-stent restenosis at 6th month follow-up. These were the first PCI using BVS performed in the service or even in sub-Saharan Africa to our knowledge. The stents were MAGMARIS. The procedure followed the guidelines for the use of BVS. Restenosis in the second patient despite well-managed treatment is consistent with data in the literature on BVS, which do not recommend their use outside of clinical trials.
[Full Text Article]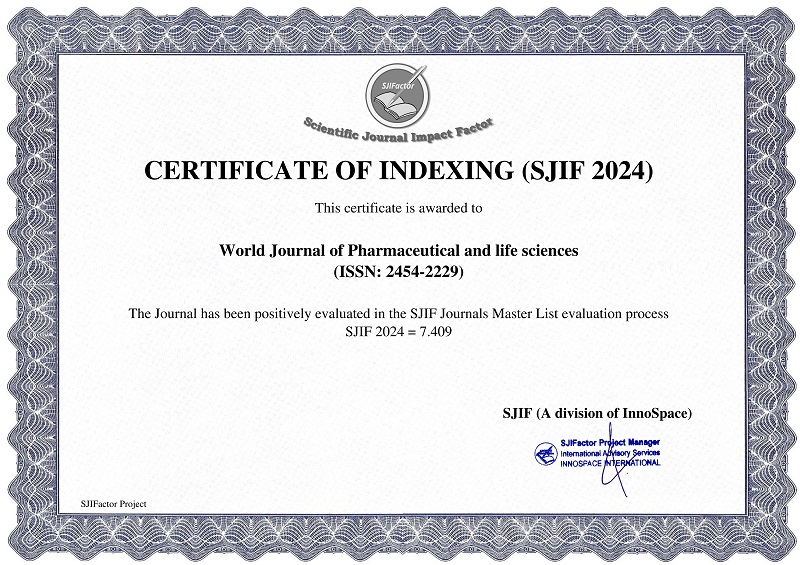 BEST PAPER AWARDS
World Journal of Pharmaceutical and life sciences Will give best paper award in every issue in the from of money along with certificate to promote research .
Best Article of current issue
Download Article : Click here