Abstract
EFFECTIVENESS OF STRUCTURED TEACHING PROGRAMME ON KNOWLEDGE REGARDING MISSION INDRA DHANUSH PROGRAMME (MIDP) AMONG MOTHERS OF UNDER TWO YEAR CHILDREN IN SELECTED PHC'S BENGALURU
Sarojamma*, Dr. Sukanya and Latha B. S.
ABSTRACT
Background and Objectives: The infant mortality rate (IMR) is one of the most important measures of child health and overall development in countries. Under two year children are most vulnerable groups in acquiring infections. WHO estimates the causes of Child Mortality in the age group 0-2years are (a) Neonatal causes (53%), (b) Pneumonia (15%), (c) Diarrhoeal disease (12%), (d) Measles (3%), (e) Injuries (3%) and (f) others (14%).so immmunisation also plays a leading role in infant mortality rate. In order to educate and encourage the mother's to improve their knowledge regarding immunisation programme, The Study Was Conducted To Evaluate The Effectiveness Of Structured Teaching Programme On Knowledge Regarding Mission Indra Dhanush Programme Among Mother's Of Under Two Year Children In Selected PHC's At, Bengaluru. METHODS: Pre-experimental one group pre test post test design, with non probability purposive sampling method was used. Information was collected from 50 mothers of under two year children attending AVATHI PHC for immunisation using the structured knowledge questionnaire. STP was implemented and post-test was conducted after 7 days to find the effectiveness. Results: Regarding effectiveness of STP, the overall mean knowledge score in the pre-test was 24.09 % and 71.57 % in the post test with enhancement of 47.48 % and it was significant at 5% level. Analysis of socio-demographic variables showed significant association between age in years, occupational status, with knowledge score at 5% level (P>0.05). Interpretation and Conclusion: Overall findings showed that pre-test knowledge scores were found to be 24.09 % and after VAT, knowledge of primigraviadae was enhanced by 71.57 % regarding MIDP. Hence the result has proved that STP was effective in improving the knowledge of mother's of under two year children visiting PHC regarding Mission Indra Dhanush Programme.
[Full Text Article]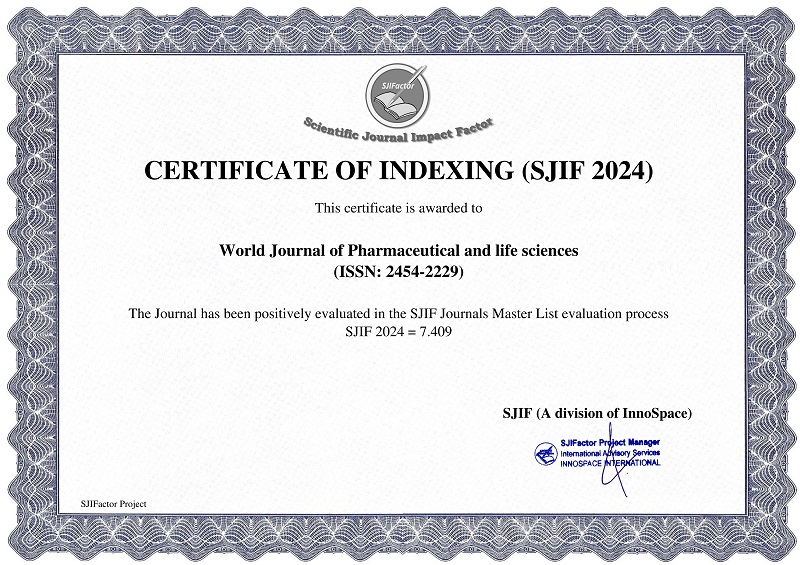 BEST PAPER AWARDS
World Journal of Pharmaceutical and life sciences Will give best paper award in every issue in the from of money along with certificate to promote research .
Best Article of current issue
Download Article : Click here