Abstract
ISOLATION OF A DIHYDROFLAVONOL FROM SUDANESE SMILAX REGELII (SMILACACEAE) AND ANTIMICROBIAL POTENTIAL OF ITS FRACTIONS
Mohamed A. M., Mayads I.*, Weam A. K.
ABSTRACT
The ethanol extract of Smilax regelii was purified by thin layer chromatography where a flavonoid - compound I - was isolated and partially characterized by spectral data (UV, 1HNMR). The ethanol extract and the chloroform, ethyl acetate, n-butanol fractons were screened for antimicrobial activity against: Escherichia coli, Pseudomonas aeruginosa, Bacillus subtilis, Staphylococcus aureus and the yeast Candida albicans. The ethyl acetate, chloroform, n-butanol and ethanol fractions showed significant activity against Staphylococcus aureus, while the n-butanol and ethyl acetate fractions exhibited significant inhibitory effect against Bacillus subtilis.
[Full Text Article]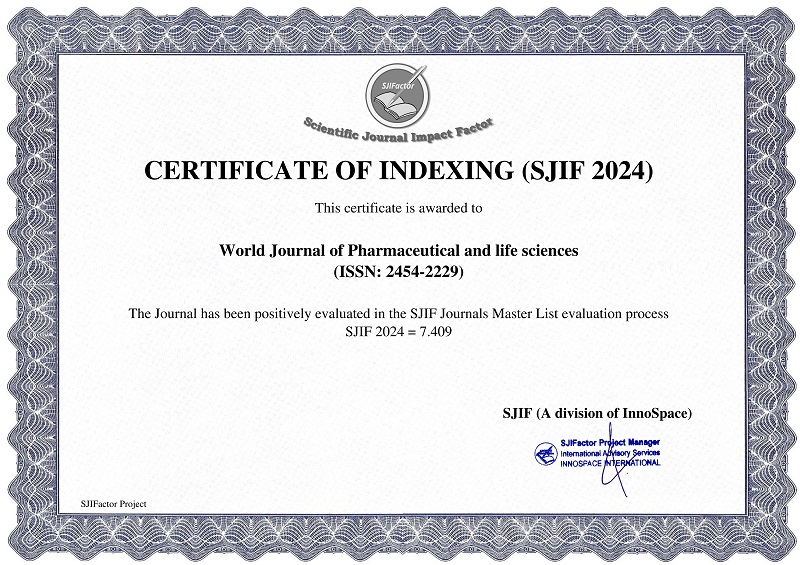 BEST PAPER AWARDS
World Journal of Pharmaceutical and life sciences Will give best paper award in every issue in the from of money along with certificate to promote research .
Best Article of current issue
Download Article : Click here