Abstract
ASSESSMENT OF EFFECTS OF FERMENTATION DURATION AND PH FOR OPTIMAL ANTIBIOTIC PRODUCTION BY STREPTOMYCES SPECIES ISOLATED FROM NIGERIA SOIL
Dr. Ekong U. S.* and Ibezim E. C.
ABSTRACT
Submerged fermentation of batch cultures of broad spectrum antibiotics producing Streptomyces isolates from Uyo, Nigeria in basal secondary fermentation medium ISP 2, were subjected to time-course study for assessments of effects of fermentation duration for and effect of PH (6.0 – 12.0) for 14 days. Daily antibiotic titre were assessed by inhibitory activity index using by the agar-well diffusion technique on DSTA seeded plates of Staphylococcus aureus and spectrophotometrically by measuring absorbance at 230 nm. Time-course study showed that daily antibiotic production titre significantly (p< 0.05), correlated positively with sporulation (r =0.805), increasing steadily to maximum peaks of inhibitory activity and absorbances at the following optimal durations: UY4 (7th days: 36.0 mm, 0.049 nm), UY5 (9th day: 39.0 mm, 0.079 nm), UY7 (6th day: 38.0 mm, 0.054 nm), UY8 (8th day: 240 mm, 0.059 nm), (7th day: 36.0 mm, 0.049 nm), UY9 (7th day: 34.0 mm, 0.054 nm), before gradually decreasing with further incubation within the study period. Similarly, optimal pH for antibiotic production by the isolates were within the range 8.0 – 9.0 as follows UY4 (pH 8.0, 18.0 mm), UY5 (pH 9.0, 19.0 mm), UY7 (pH 8.5, 23.0 mm), UY8 (pH 8.5, 16.0 mm), UY9 (pH 8.0, 20.0 mm), suggesting the Streptomyces isolates to be alkilophiles. The results indicated that the optimal fermentation duration and pH for growth and antibiotic production by the Streptomyces isolates are species-specific.
[Full Text Article]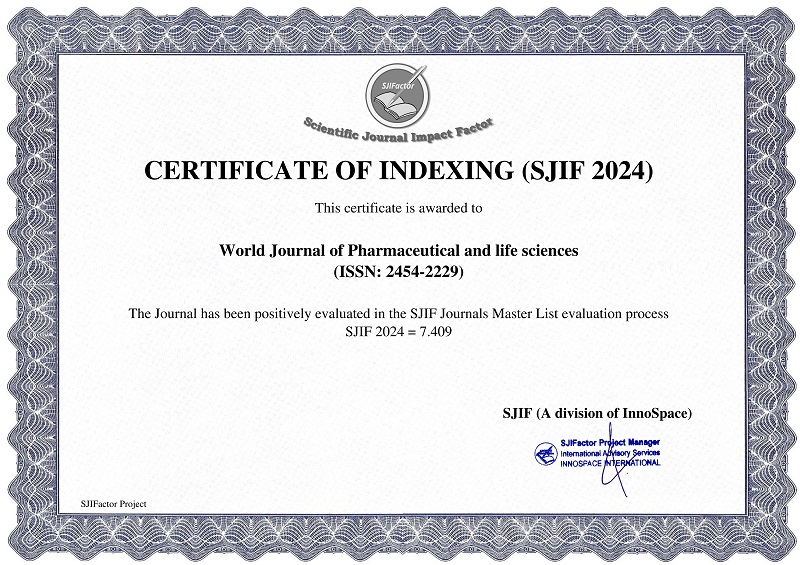 BEST PAPER AWARDS
World Journal of Pharmaceutical and life sciences Will give best paper award in every issue in the from of money along with certificate to promote research .
Best Article of current issue
Download Article : Click here