Abstract
ISOLATION AND PARTIAL CHARACTERIZATION OF A DIHYDROFLAVONOL FROM SUDANESE ACACIA NILOTICA SUBSP. NILOTICA PODS AND ANTIBACTERIAL ACTIVITY OF POD FRACTIONS
Abel Karim M.*, Shaza A. and Mohamed S.
ABSTRACT
From the methanolic extract of, Acacia nilotica subsp. nilotica a flavonoid - compound I has been isolated. The extract was purified by thin layer chromatography and the isolated flavonoid was partially characterized via some spectroscopic data (UV, 1HNMR). Some fractions of Acacia nilotica were evaluated for antimicrobial potential against Gram negative (Escherichia coli and Pseudomonas aeruginosa); Gram positive (Bacillus subtilis and Staphylococcus aureus) and the fungal species Candida albicans. The ethyl acetate and ethanol fractions showed moderate activity against Pseudomonas aeruginosa, while the n-butanol fraction exhibited a partial activity. The chloroform and ethanol fractions showed partial activity against Staphylococcus aureus.
[Full Text Article]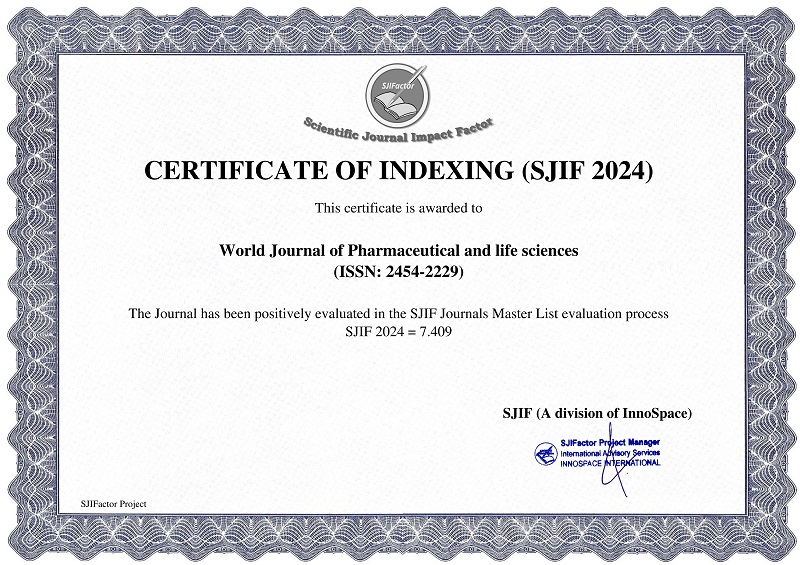 BEST PAPER AWARDS
World Journal of Pharmaceutical and life sciences Will give best paper award in every issue in the from of money along with certificate to promote research .
Best Article of current issue
Download Article : Click here