Abstract
COMPARATIVE STUDY BETWEEN LAPAROSCOPIC TOTAL HYSTERECTOMY AND OPEN ABDOMINAL HYSTERECTOMY IN ALDIWANIYAH TEACHING HOSPITAL
*Dr. Mohammed H. Alobaidi M.B.CH.B, FACS., Dr. Qassim J. Alnaqeeb M.B.CH.B. C.A.B.S. and
Dr. Ridah S. Alkinani M.B.CH.B.
ABSTRACT
Background: Open abdominal hysterectomies was one of the most common and traditional surgical procedure for the removal of uterus in women for the treatment of benign gynecological disease. Laparoscopic hysterectomy results in less blood loss than abdominal surgeries and is also more achievable in nulliparous and obese women. Laparoscopic hysterectomy (LH) rates recently increases, but traditional open approach is still used in predominance. Most studies now prefer the laparoscopic approach for hysterectomy for the known benefits of minimal access surgery Aim of the Study: the study aimed to compare the outcome of laparoscopic total hysterectomy with its open counterpart in terms of some intraoperative and postoperative selected parameters. Patients and Methods: this prospective randomized controlled trial performed on 50 patients who underwent LH (group 1) compared to 50 patients who underwent AH (group 2). The mean age of the cases, body mass index (BMI), duration of operation, estimated blood loss (EBL), rate of complications, post-operative hospital stay and convalescence time were compared for two groups. Results: LH was associated with a significantly longer operating time (90+-12 minutes vs. 75+-15minutes P 0.004). Regarding the intraoperative complications there were no difference between both groups, but there is statistically significant difference regarding blood loss In LH group the pain score and analgesia requirements in post- operative period were significantly less with only few patients' required post-operative opioid analgesia. There was a highly significant difference between groups in postoperative wound related complications which were higher in AH group. LH was also associated with a significantly shorter hospital stay (1.6+-1 vs. 3+-2 days P= 0.001) and earlier returned to daily activities (9+-3.2 vs. 23.4+-11days P<0.001). Conclusion: total laparoscopic hysterectomy is safe and feasible procedure in treatment of benign uterine tumors and other pathologies with less postoperative pain, rate of wound complication, shorter hospital stay.
[Full Text Article]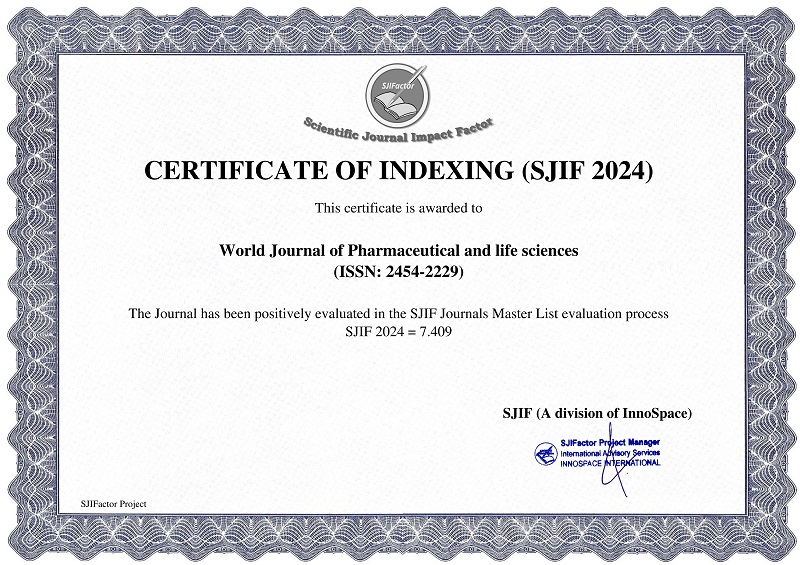 BEST PAPER AWARDS
World Journal of Pharmaceutical and life sciences Will give best paper award in every issue in the from of money along with certificate to promote research .
Best Article of current issue
Download Article : Click here