Abstract
A REVIEW STUDY ON ETHNOPHARMACOLOGICAL & PHYTOCHEMICAL COMPARISON BETWEEN SYZYGIUM CUMINI & SYZYGIUM JAMBOS OF GENUS SYZYGIUM (FAMILY: MYRTACEAE).
Nisrat Jahan*
ABSTRACT
This article aims to provide detailed information on two species of Syzygium cumini& Syzygium jambos from genus Syzygium of family Myrtaceae. An extensive search on electronic databases and conference papers was done to come across significant articles on different pharmacological activities with the traditional use of this genus. The presence of various phytochemical constituents have been reported that have significant prominence on the bioactive belongings. Hence, this current review is a detailed outline on the prospective medicinal values from previous studies. However, further exploration on the possible underlying mechanisms with the isolation of more respective active compounds remains under investigation.
[Full Text Article]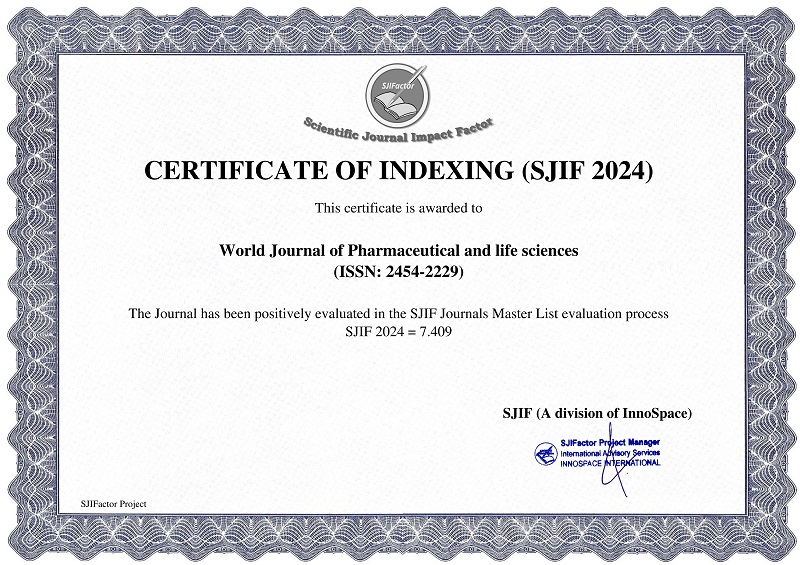 BEST PAPER AWARDS
World Journal of Pharmaceutical and life sciences Will give best paper award in every issue in the from of money along with certificate to promote research .
Best Article of current issue
Download Article : Click here