Abstract
FORMULATION AND CHARACTERIZATION OF COLON SPECIFIC DRUG DELIVERY SYSTEM OF A MATRIX TABLET
Rajeswari P.*, Kiranmai T., Manthrunaik D., A. V. Suresh Babu, Sunil Kumar M,. Subbarao G., Gopaiah K., Dr. Sudhakara Rao G.
ABSTRACT
The objective of the present study is to develop colon targeted drug delivery system by using Chitosan as a carrier for Mesalamine. Matrix tablets containing various excipients and Chitosan were prepared by wet granulation technique using different binder systems. The prepared tablets were evaluated for Hardness, Weight variation, Drug uniformity, Friability and In-vitro Drug release study. The final product is expected to have the advantage of being biodegradable and pH dependant. The matrix tablet containing Chitosan as a carrier and xanthum gum as binder was found to be suitable for targeting mesalamine for local action in the colon as compare to other matrix tablets containing different binders. Matrix tablets containing Chitosan released 99.99% of mesalamine in simulated colonic fluid. The stability study for prepared tablets at 40?C/75% relative humidity for three months showed no significant change in In-vitro drug release pattern. The results of in-vitro study indicate that matrix tablets containing Chitosan as carrier and xanthum gum as binder are most suitable to deliver the drug specifically in colonic region. The final formulation of mesalamine for colon-specific drug delivery gives pH, time and enzyme controlled release.
[Full Text Article]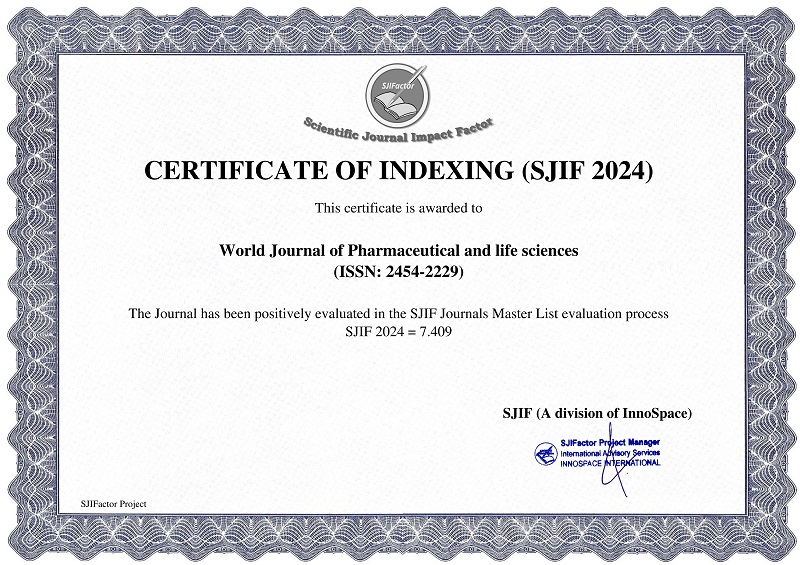 BEST PAPER AWARDS
World Journal of Pharmaceutical and life sciences Will give best paper award in every issue in the from of money along with certificate to promote research .
Best Article of current issue
Download Article : Click here