Abstract
THERMAL AND ANTIMICROBIAL STUDIES OF SOME BENZILIC ACID - AMINO ACID TRANSITION METAL COMPLEXES
G. Indiradevi*, Pranamya N. P. and Ali Hassan M.
ABSTRACT
Anti microbial agents are used to prevent diseases of plants and animals. Synthesis of a new series of Cu, Ni, Mn, Co complex of benzilic acid-amino acid have been carried out and its characterization were fulfilled by various physicochemical methods such as elemental analysis, molar conductance and UV and IR spectral measurements. Magnetic and conductance data of these complexes have also been employed to characterize them. Thermally stable coloured complexes of amino acid alanine with benzilic acid and metals were prepared and their antifungal activity tried against Rhizoctonia solani, Phytophthora capsici and Colletotrichum gloeosporioides. The novel thermally stable bezilic acid alanine complexes synthesized show high antifungal activity.
[Full Text Article]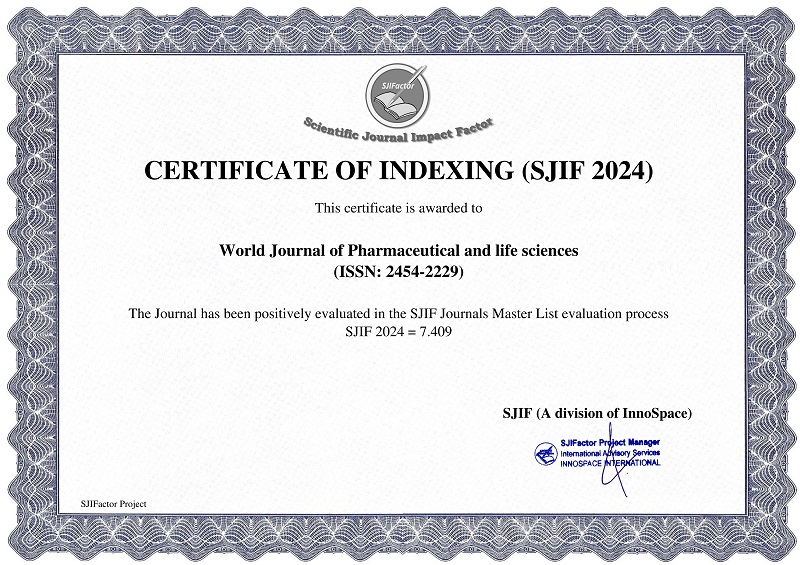 BEST PAPER AWARDS
World Journal of Pharmaceutical and life sciences Will give best paper award in every issue in the from of money along with certificate to promote research .
Best Article of current issue
Download Article : Click here