Abstract
GC-MS ANALYSIS AND ANTIMICROBIAL ACTIVITY OF TRICHYSPERMUM AMMI MARKETED IN KHARTOUM (SUDAN)
Abdel Karim M.*, Amna D., Weam A. K. and El-Hafez M.
ABSTRACT
Trichyspermum ammi is a herb of diverse uses in Sudanese ethnomedicine. It is an annual herbaceous plant reaching 30-70cm in height .Fruits are claimed to have antimicrobial, antiseptic and antithelmintic properties. The oil from Trichyspermum ammi was studied by GC-MS. It was also evaluated for antimicrobial activity. The GC-MS analysis showed eleven components. Major constituents are: 9-octadecenoic acid –(Z)- methyl ester(61.11%), 9,12-octadecadienoic acid-(ZZ)-, methyl ester(29.57%) and hexadecanoic acid methyl ester(6.53%). The oil showed significant antibacterial activity against Staphylococcus aureus. It also showed significant anticandidal activity It exhibited partial activity against Pseudomonas aeruginosa.
[Full Text Article]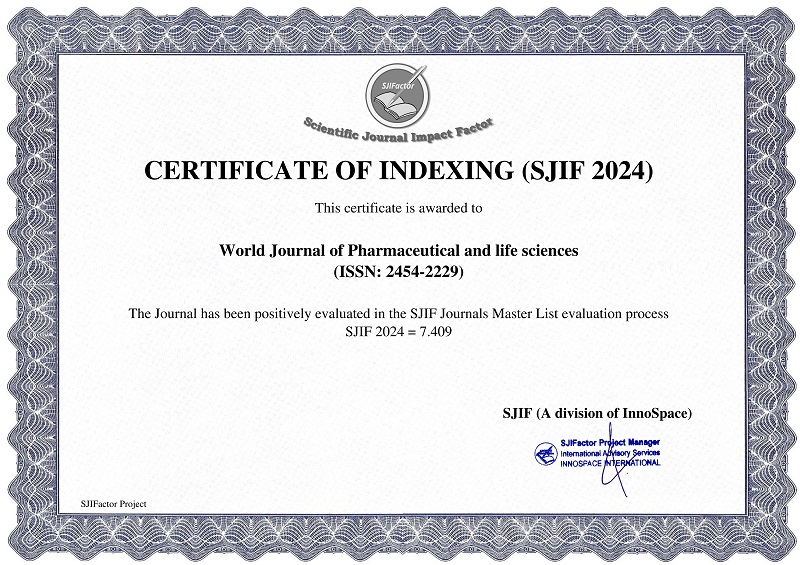 BEST PAPER AWARDS
World Journal of Pharmaceutical and life sciences Will give best paper award in every issue in the from of money along with certificate to promote research .
Best Article of current issue
Download Article : Click here