Abstract
ISOLATION, PARTIAL CHARACTERIZATION AND ANTIMICROBIAL ACTIVITY OF A FLAVONE FROM SUDANESE CORIANDRUM SATIVUM L.(APIACEAE) LEAVES
Abdel Karim M.*, Haga S., Kamal M. S. and El-Hafez M.
ABSTRACT
Coriandrum sativum L. (Apiaceae) is an annual herbaceous plant growing up to 25-60cm in height. It is one of the oldest species used by humans. The plant is indigenous to the Mediterranean region, but now cultivated worldwide for its commercial importance. This study was carried out to investigate the major flavonoid of Coriandrum sativum leaves and to assess the antimicrobial activity of the isolated flavonoid. The flavonoids were extracted with ethanol and the crude extract was purified by paper chromatography where a flavonoid (compound I) was isolated. The structure of this compound has been partially characterized by some spectral tools (UV, IR and 1HNMR). In the antimicrobial assay, compound I showed significant antibacterial against Pseudomonas aeruginosa, Bacillus subtiles and Candida albicans. It exhibited moderate activity against Staphylococcus aureus, Escherichia coli and the fungal species Aspergillus niger.
[Full Text Article]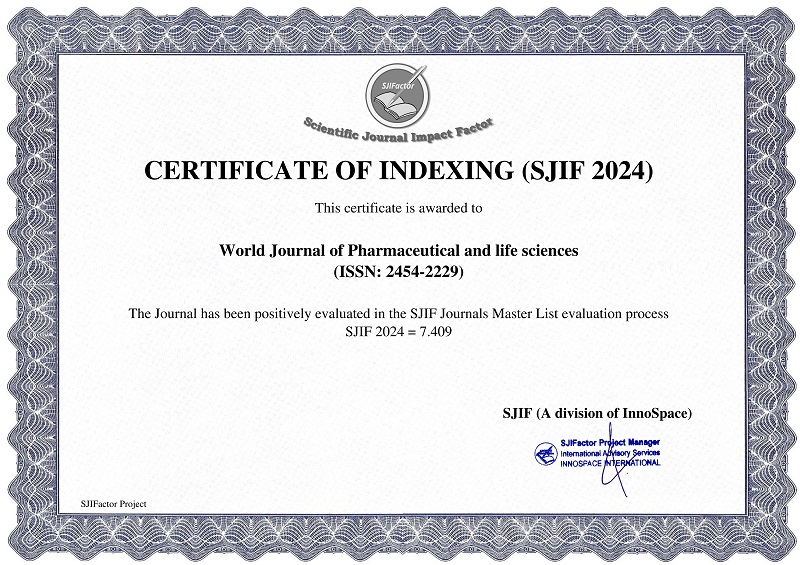 BEST PAPER AWARDS
World Journal of Pharmaceutical and life sciences Will give best paper award in every issue in the from of money along with certificate to promote research .
Best Article of current issue
Download Article : Click here