Abstract
MINERAL NUTRIENTS IN SOME MOSS SPECIES FROM MAHARASHTRA, INDIA
Wadavkar D. S.*, Murumkar C.V., Gawade P. D. and Chavan S. J.
ABSTRACT
The composition of mineral nutrients was studied in mosses from Maharashtra namely Barbula unguiculata Hedw., Hypnum reflexum F. E. Tripp., Steeriophyllum anceps (Bosch et. Lac.) Broth., Fissidens crenulatus Mitt., Trachypodiopsis blanda (Mitt.) Fleisch., Funaria hygrometrica Hedw., Macromitrium sulcatum Brid., Brachymenium turgidum Broth., Bryum coronatum Schwaegr. and Hyophila involuta (Hook.) Jaeg. growing in various habitats like Lonawala and Khandala, Mahabaleshwar, Sinhagad, Kaas Plateau and Aundh (Satara) . The study revealed that these eleven nutrients (Ca, Mg, N, K, S, P, Fe, Mn, Cu and Zn) showed differential accumulation from species to species. The level of Ca is usually more than the other macroelements viz. N, P, K, S, and Mg in mosses. It ranges from 10- 26.5 mg/g dry wt. N , P, K and Mg also important macronutrients ranges from 0.41-23.7, 0.8-3.3, 2.5-6.5, 3.3-8.6 mg/g dry wt. The level of S lowest among all those of macronutrients ranges from 1.8 - 5.3 mg/g. The level of Fe (10500-35300 µg/g dry wt.) is the highest and Zn (45-166 µg/g dry wt.) is the lowest among all the microelements in mosses as compared to remaining moss species with few exceptions.
[Full Text Article]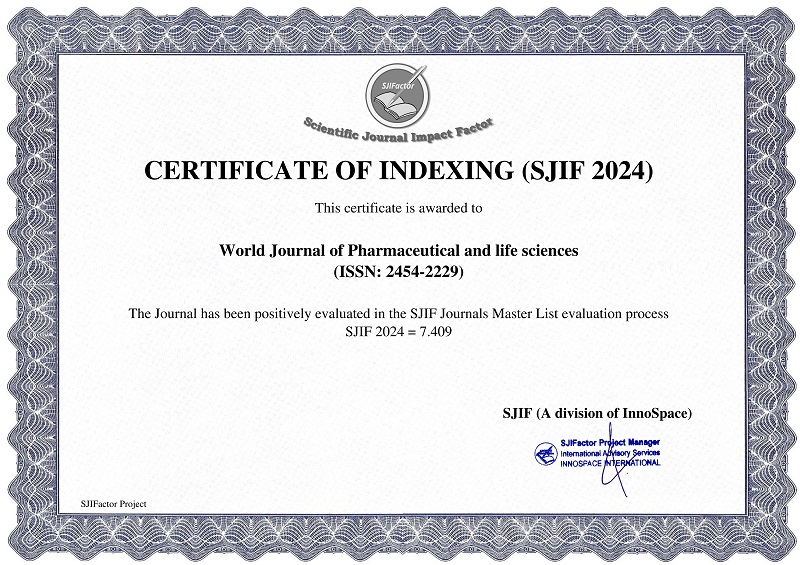 BEST PAPER AWARDS
World Journal of Pharmaceutical and life sciences Will give best paper award in every issue in the from of money along with certificate to promote research .
Best Article of current issue
Download Article : Click here