Abstract
A REVIEW ON TOPICAL THERAPEUTICS IN PSORIASIS
Satyapal Singh*
ABSTRACT
Psoriasis is now considered a multifactorial disorder that has several factors like genetic predisposition, environmental, immunologically mediated inflammation and several modifying factors including obesity, trauma, infection and a possible deficiency of the active forms of vitamin D3. Usually it runs a chronic course and requires timely and appropriate medical care. A wide range of treatment options are available, however, adverse effects and success vary from patient to patient. Topical therapy remains a key component for the management
of most of the patients with psoriasis. Mild disease is typically managed with topical therapy alone and moderate to severe form is usually treated with phototherapy, conventional systemic therapies or biological agents. However, use of topical therapy in moderate to severe disease may be helpful and can potentially reduce the amount of phototherapy or systemic agent required to achieve satisfactory disease control. Although phototherapy, traditional systemic agents and biological agents are available for the treatment of psoriasis, however, topical therapies continue to serve as the fundamental basis. Understanding the mechanism of action of these drugs is necessary for better management and proper application in situations where clinical challenges appear.
[Full Text Article]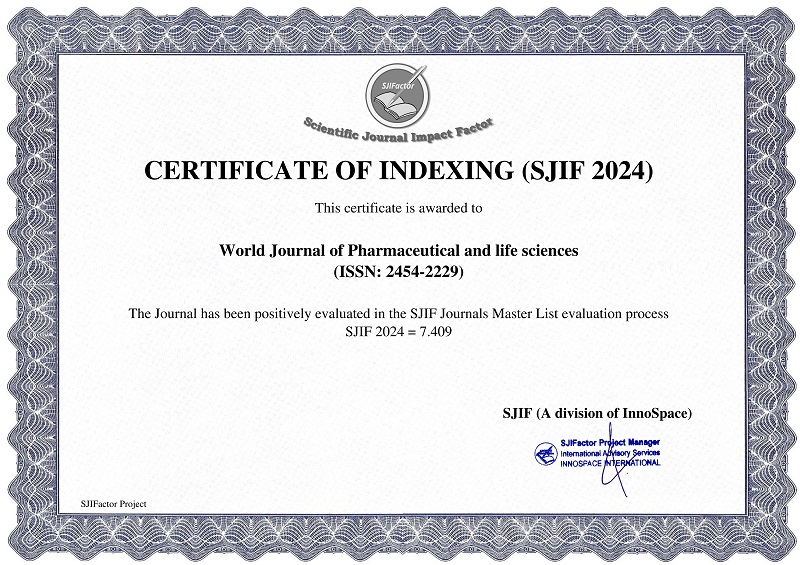 BEST PAPER AWARDS
World Journal of Pharmaceutical and life sciences Will give best paper award in every issue in the from of money along with certificate to promote research .
Best Article of current issue
Download Article : Click here