Abstract
ISOLATION, PARTIAL CHARACTERIZATION OF A FLAVANONE FROM ALBIZIA AMARA (LUGUMINACEAE) STEM BARK AND ANTIBACTERIAL ACTIVITY OF ROOT FRACTIONS
Abdel Karim M.*, Haga S., Tohami E. H. and El-Hafez M.
ABSTRACT
This study was carried out to investigate the major flavonoid of Albizia amara stem bark and to evaluate the antibacterial activity of root ethyl acetate and n-butanol fractions. The flavonoids were extracted with ethanol and the crude extract was purified by paper chromatography where a flavanone was isolated. The structure of this compound has been partially characterized by UV and 1HNMR data. In the antimicrobial assay, the ethyl acetate and n-butanol fractions from Albizia. Amara roots were assessed for antibacterial activity. These extracts showed responses against the bacterial strains: Streptococcus mutans and Lacto bacillus . Both of the ethyl acetate and the n-butanol fractions showed significant activity against Lacto bacillus within the test concentracions(100,200mg/ml). However, within the test concentrations, the ethyl acetate fraction was more effective against Streptococcus mutans than the n-butanol fraction.
[Full Text Article]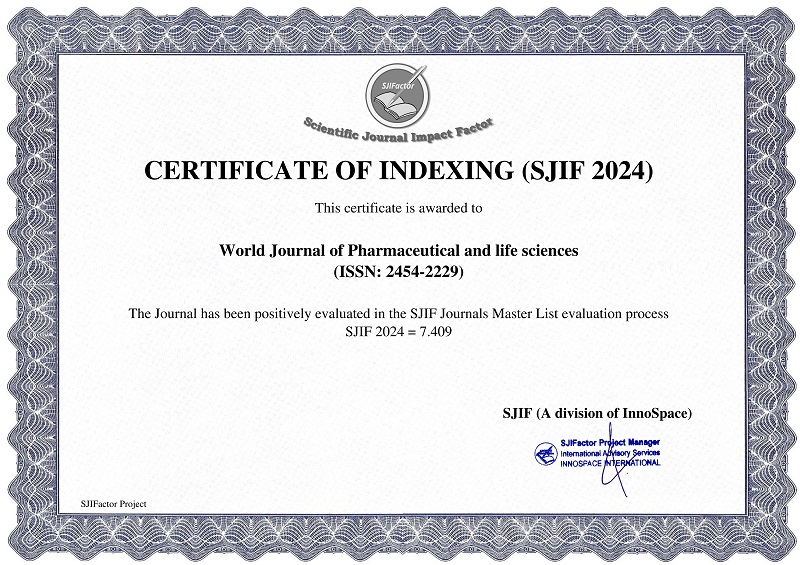 BEST PAPER AWARDS
World Journal of Pharmaceutical and life sciences Will give best paper award in every issue in the from of money along with certificate to promote research .
Best Article of current issue
Download Article : Click here