Abstract
PARTIAL CHARACTERIZATION OF AN ISOFLAVONE FROM SUDANESE COMBRETUM ACULEATUM (COMBRETACEAE) ROOTS AND ANTIMICROBIAL ACTIVITY OF LEAVES METHANOL EXTRACT
Abdel Karim M.*, Honaida E. and Salah H.
ABSTRACT
Combretum aculeatum is a climbing shrub growing up to 4 m. In African system of medicine, the plant is used for treating some human diseases. This study was designed to investigate the major flavonoid of Combretum aculeatum roots and to screen the antimicrobial activity of leave methanol extract. The flavonoids were extracted with ethanol and the crude extract was purified by paper chromatography where an isoflavone has been isolated. The structure of this compound has been partially characterized by some spectral tools (UV and 1HNMR). In the antimicrobial assay, the methanolic extract showed significant activity against Escherichia coli and Pseudomonas aeruginosa. It showed moderate activity against Bacillus subtilis and Staphylococcus aureus. The extract exhibited significant antifungal activity against the fungi: Candida albicans and Aspergillus niger.
[Full Text Article]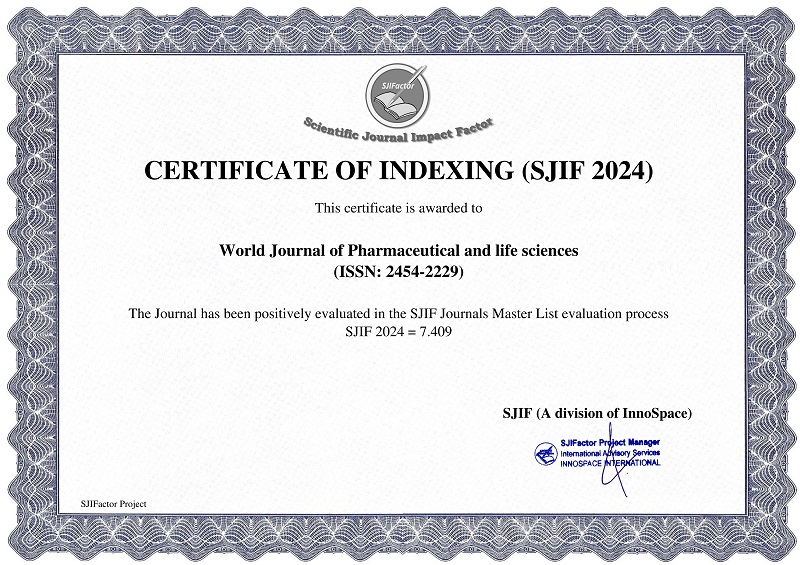 BEST PAPER AWARDS
World Journal of Pharmaceutical and life sciences Will give best paper award in every issue in the from of money along with certificate to promote research .
Best Article of current issue
Download Article : Click here