Abstract
GC-MS ANALYSIS OF ROOT ACETONE EXTRACTS OF SPATHOLOBUS PURPUREUS- A HIGH MEDICINAL VALUE PLANT
Dr. Deshmukh O. S.* and Makode K. U.
ABSTRACT
Spatholobus purpureus, a medicinally important plant belongs to the family Fabaceae. Traditionally root are used in the treatment of diarrhoea and dysentery diseases. In the present study, the bioactive compounds of Spatholobus purpureus root have been evaluated using GC-MS. The chemical compositions of the acetone extract of Spatholobus purpureus were investigated using Perkin-Elmer Gas Chromatography - Mass Spectroscopy. GC-MS analysis of Spatholobus purpureus acetone extract revealed the existence of the GC-MS chromatogram of the ten peaks presented. The seventeen phytoconstituents were characterized and identified on comparison of the mass spectra of the constituents with the NIST library. The GC-MS analysis of the root of Spatholobus purpureus reveled the presences of compounds like 2-Pentanone, 4-Hydroxy-4-Methyl, Diphenylmethane, Heptacosane, Tetratetracontane, Octacosane, Di-N-Octyl Phthalate, 6H-Benzofuro(3,2-C)(1) Benzopyran,3,9-Dimethoxy, Tritetracontane, 6A,12A-Dihydro-6H-(1,3) Dioxolo (5,6) Benzofuro(3,2-C) Chromen-3-Ol, Oxalic acid, Decyl 2-Ethyl Hexyl Ester,Pyridine,2-Methyl-3-(Trimethylsilyloxy)-4,5-Bis (Trimethysilyloxy) Methyl, Octadecane, 3-Ethyl-5-(2-Ethylbutyl), Di-N-Decylsulfone and Cyclotrisiloxane Hexamethyl.
[Full Text Article]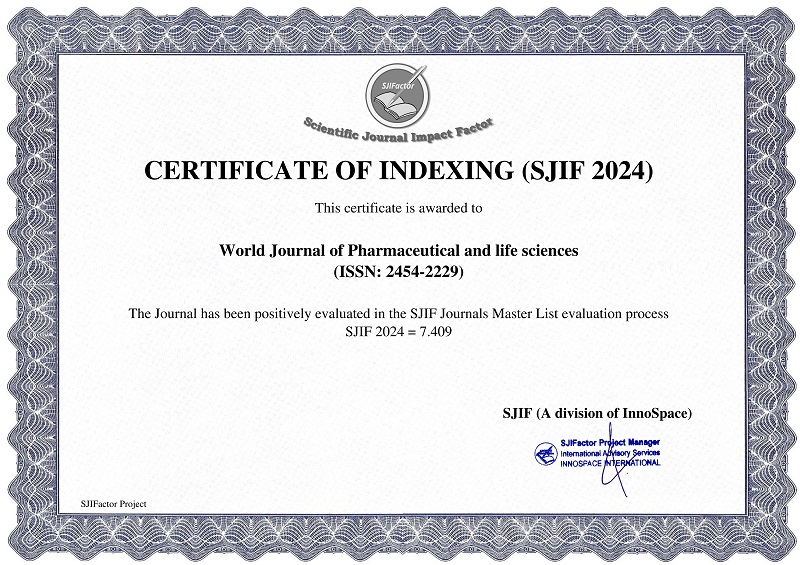 BEST PAPER AWARDS
World Journal of Pharmaceutical and life sciences Will give best paper award in every issue in the from of money along with certificate to promote research .
Best Article of current issue
Download Article : Click here