Abstract
GC-MS ANALYSIS AND ANTIMICROBIAL ACTIVITY OF SUDANESE ARACHIS HYPOGOEA L. (FABACEAE) OIL
Abdel Karim M.*, Mawahib A. and Kamal M. S.
ABSTRACT
Arachis hypogoea L. (peanut or groundnut)is an important crop in the pea family(Fabaceae). Peanut originated in South America and dissemination to Africa, Europe Asia occurred in the sixteenth century. The plant is widely grown in tropics and subtropics mainly for its edible oil. Peanut oil is used in cosmetics and as vehicle in many pharmaceutical preparations. Peanut oil was studied by GC-MS. The oil was also evaluated for antimicrobial activity. The GC-MS analysis showed 25 components. Major constituents are: 9-octadecenoic acid methyl ester(33.44%),9,12-octadecadienoic acid methyl ester(24.29%), hexadecanoic acid methyl ester(13.33%) and methyl stearate(6.28%). The antimicrobial assay showed significant activity against Pseudomonas aeruginosa, moderate activity against Escherichia coli beside moderate anticandidal effect.
[Full Text Article]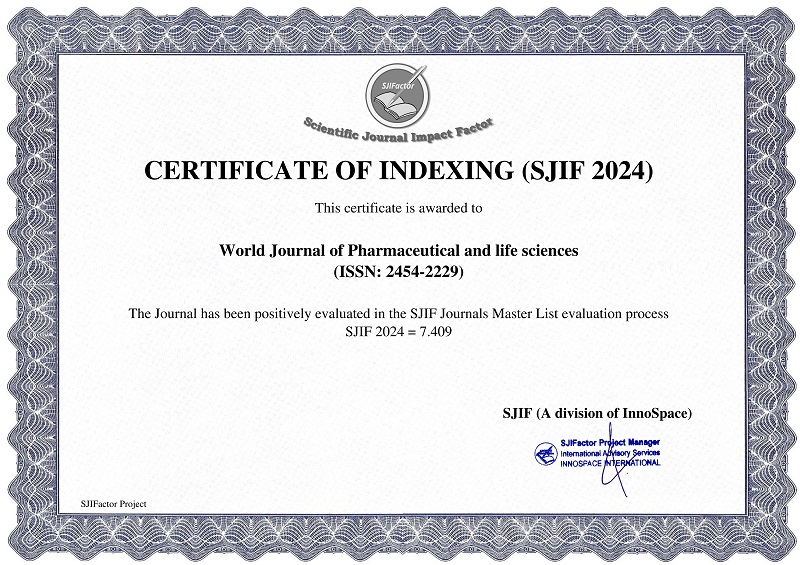 BEST PAPER AWARDS
World Journal of Pharmaceutical and life sciences Will give best paper award in every issue in the from of money along with certificate to promote research .
Best Article of current issue
Download Article : Click here