Abstract
GENETIC DIVERSITY IN COFFEA CANEPHORA BASED ON THEIR REACTIONS TO RACES OF HEMILEIA VASTATRIX (BERK AND BROOME)
Dr. Nyabisi Maliyatabu Ng'homa, Delphina P. Mamiro, Paul Mbogo Kusolwa, Deusdedit Lucian Kilambo, Josephina Urasa
ABSTRACT
Coffee leaf rust (CLR) has been persistently causing serious yield reduction on Coffea arabica coffee in Tanzania.
For several decades now there has been no information on the response of Coffea canephora to different races of
Hemileia vastatrix in Tanzania. In recent years variations on the reactions of Coffea canephora to coffee leaf rust
disease was observed in the robusta coffee germplasm at TaCRI Maruku. An experiment was conducted at Maruku
coffee research institution to investigate various races of H. vastatrix infecting cultivated C. canephora and wild
coffee genotypes. Assessment on the reactions to the pathogen of H. vastatrix was conducted by using 114
cultivated C. canephora and 23 wild coffee genotypes. Two main groups of C. canephora with complete and
susceptible genotypes were identified. The investigations revealed that 41.2% of assessed genotypes demonstrated
complete resistance to coffee leaf rust disease. The remaining 58.8% of evaluated were susceptible to the disease at
varied levels of severity ranging from 100 to10%. Susceptible genotypes were subdivided into eleven subgroups
corresponding to the response to specific races. Variations in the response of C. canephora genotypes to different
physiological races of H. vastatrix revealed genetic diversity among the genotypes of cultivated and wild
C.canephora in Tanzania.
[Full Text Article]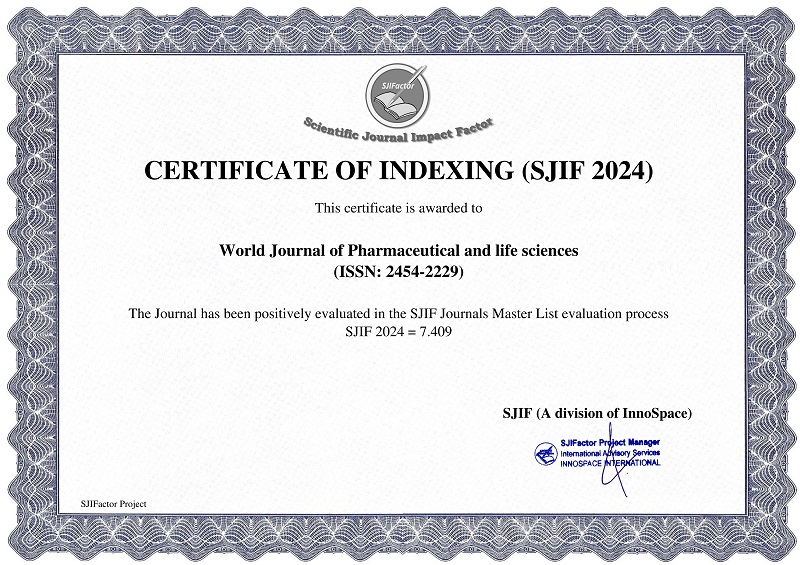 BEST PAPER AWARDS
World Journal of Pharmaceutical and life sciences Will give best paper award in every issue in the from of money along with certificate to promote research .
Best Article of current issue
Download Article : Click here