Abstract
CHARACTERIZATION OF PHOSPHATE SOLUBILIZING BACTERIA (PSB) ISOLATED FROM RHIZOSPHERE SOILS OF SELECTED CROP PLANTS
*Dr. Tensingh Baliah N. and Kiruthiga R.
ABSTRACT
The rhizosphere soils were collected from economically important crop plants such as sunflower, cotton, chilly, tomato, black gram, sorghum, brinjal, green gram, ladys' finger and red gram. Isolation and enumeration of PSB was carried out following dilution plate technique using hydroxy apatite medium. The isolated PSB strains were screened in vitro by measuring the P solubilization zone in solid medium, determining pH change of the medium and estimating the phosphatase activity, organic acids production and available phosphorus. The population level of PSB was higher in the rhizosphere soil collected from green gram followed by sunflower. Based on the biochemical and morphological tests, PSB were identified at genus level. The selected strains differed in the solubilization zone formation in the solid medium, pH reduction in the culture medium, production of phosphatase enzyme, organic acids and available phosphorus.
[Full Text Article]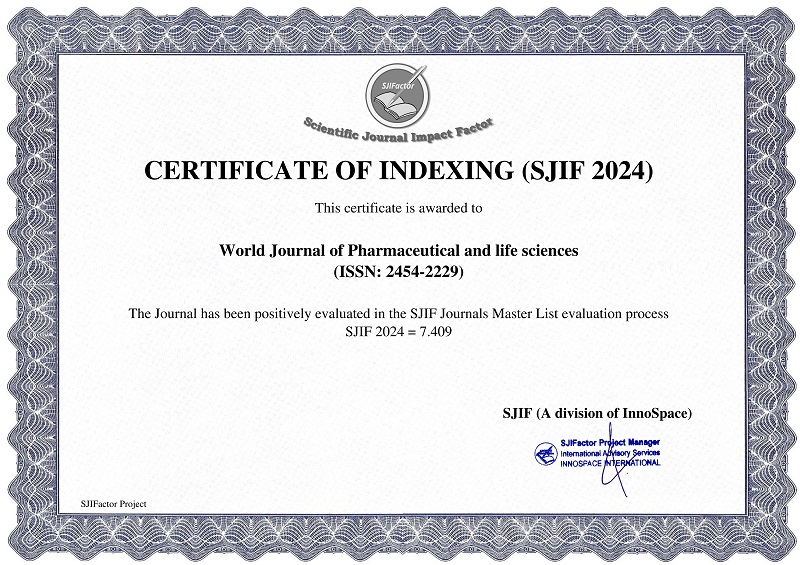 BEST PAPER AWARDS
World Journal of Pharmaceutical and life sciences Will give best paper award in every issue in the from of money along with certificate to promote research .
Best Article of current issue
Download Article : Click here