Abstract
AYURVEDIC PERSPECTIVE OF PRIMARY OPEN ANGLE GLAUCOMA W.S.R TO VATAJA TRUTEEYA PATALAGATA TIMIRA
*Dr. Vachana S. Devappa and Dr. Sujathamma K.
ABSTRACT
Glaucoma is a group of disorders characterized by a progressive optic neuropathy which ultimately results in irreversible blindness. At present, there is no way to functionally restore vision lost from glaucoma but regenerative therapy may be possible in the future. The goal of medical treatment for glaucoma is to lower an individual's eye pressure to a level that preserves visual function to reduce morbidity such as diminished psychosocial functioning and falls, while maintaining a good quality of life. Modern treatment aims at controlling IOP but yet the disease progresses even when IOP is under control. And hence modern treatment is looking at neuroprotective strategies. POAG can be considered as margavarana janya vata vyadhi in Ayurveda and correlated to truteeya patalagata timira. Ayurveda treatment aims at both srotoshodhana and chakshushya rasayana which helps prevent further glaucomatous neuropathy changes. Here is an attempt made for understanding the pathogenesis and treatment of POAG in Ayurveda.
[Full Text Article]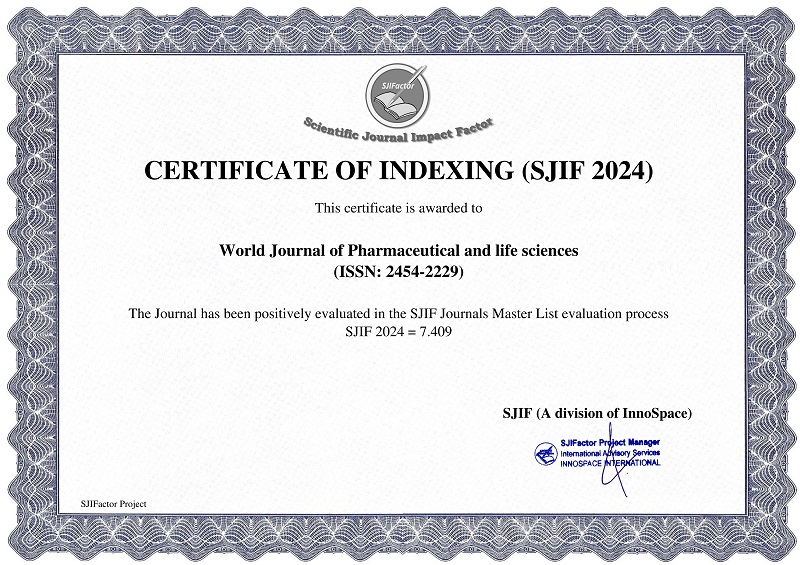 BEST PAPER AWARDS
World Journal of Pharmaceutical and life sciences Will give best paper award in every issue in the from of money along with certificate to promote research .
Best Article of current issue
Download Article : Click here