Abstract
REPRODUCTIVE CYCLE OF DENTEX MACROPHTHALMUS (BLOCH, 1791) IN CENTRAL ATLANTIC WATERS, ESPECIALLY ON SENEGALESE COAST.
*Anne Marie Ndiaye and Babacar Sembene
ABSTRACT
Dentex macrophtalmus has a significant commercial value in Senegal. Despite this importance few biological studies have been conducted in our country. This work has been initiated in order to fill this gap. We conducted monthly withdrawals at the banks of landings surrounding the city of Dakar, Yoff, Ouakam Yarakh and Soumbédioum. Macroscopic observations and photonic associated monthly monitoring of gonadosomatic ratio hepatosomatic, condition factor summers were
performed to determine reproduction periods of D.macrophtalmus. This species has a breeding season that goes from February to June; sexual rest is from July to August. The size at first maturity is 13.94 cm in females and 13.89 cm in males.
[Full Text Article]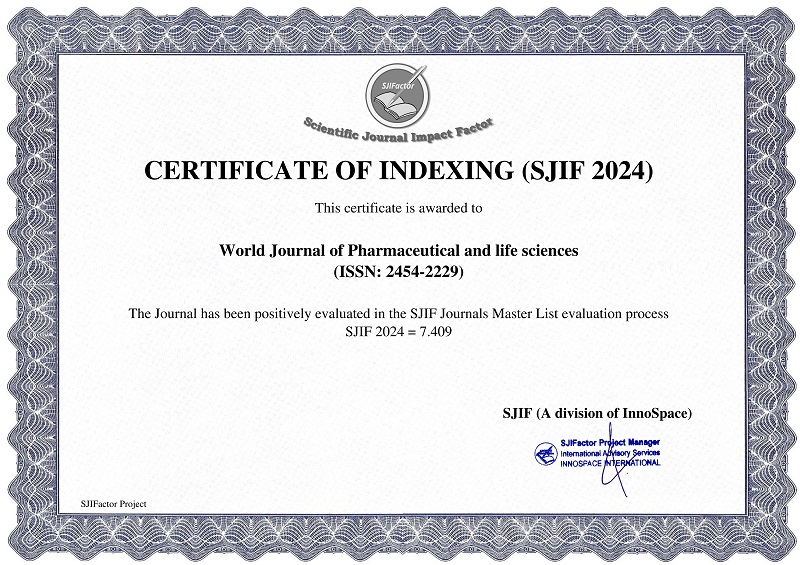 BEST PAPER AWARDS
World Journal of Pharmaceutical and life sciences Will give best paper award in every issue in the from of money along with certificate to promote research .
Best Article of current issue
Download Article : Click here