Abstract
REVIEW ON RISK FACTORS AND MANAGEMENT OF DIABETES MELLITUS IN PETS
Addis Ababa, *Gashaw Getaneh and Mebrie Zemene
ABSTRACT
The knowledge of risk factors and management practice of diabetes mellitus in pets are very important to save the life of animals. Diabetes mellitus is a multi-factorial disease in origin, meaning that variety of factors play a role in the disease process. Genetic and environmental factors play an important role in feline and canine diabetes. Genetics in feline include the overrepresentation of cats with diabetes and
environmental risk factors in cat include advancing age, obesity, gender, neutering, drug treatment, physical inactivity and indoor confinement. A genetic basis and altered immune response have a role in the pathogenesis of canine diabetes. Seasonal effects on the diagnosis indicate that there is an environmental influence on disease progression. At least 50% of diabetic dogs have IDDM diabetes due to immune destructions of β-cells. The primary goal of treating diabetic pets is to control clinical signs without causing clinical hypoglycemia as well as other complications and to maximize the chance of achieving a diabetic remission. Identification and treatment of concurrent disease plays an integral role in the successful management of the diabetic pets. lente is the insulin of choice in cats to maximize their chance of going in to diabetic remission and for dogs Ultraletne is preferable.
[Full Text Article]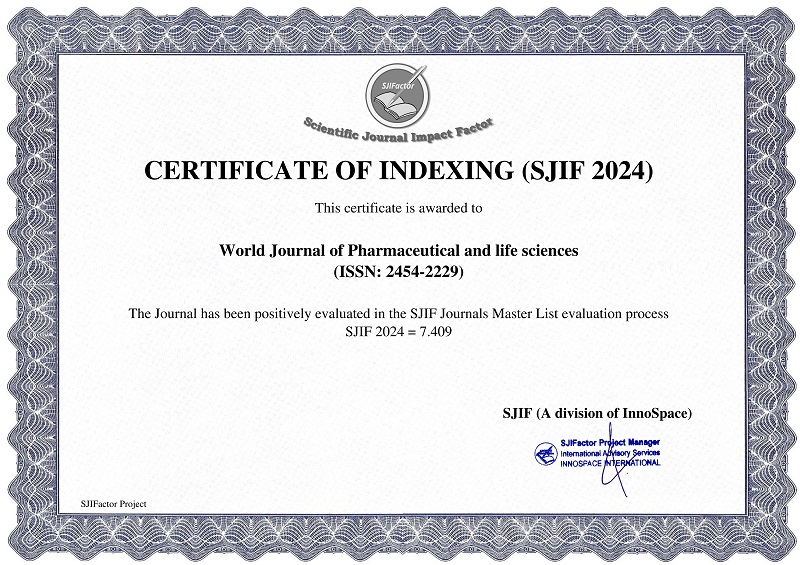 BEST PAPER AWARDS
World Journal of Pharmaceutical and life sciences Will give best paper award in every issue in the from of money along with certificate to promote research .
Best Article of current issue
Download Article : Click here