Abstract
EVALUATION OF NEPHROPROTECTIVE ACTIVITY OF NEFROWIN (A POLYHERBAL FORMULATION) ON CISPLATIN INDUCED NEPHROTOXICITY IN MALE WISTAR ALBINO RATS.
*Aswathi P. J., Abdul Vahab A., R. Sankar Iyer
ABSTRACT
Objectives: The present study is mainly focused to experimentally elucidate the nephroprotective potential of Nefrowin (a polyherbal formulation for renal disorders) against cisplatin (5mg/kg, ip) induced nephrotoxicity in albino wistar rats. Cisplatin (Cis-diaminedichloroplatinum II) is one of the most effective chemotherapeutic agents having well documented adverse effect as nephrotoxicity. Cisplatin induced nephrotoxicity depend on several signaling pathways leading to apoptosis in tubular epithelial cells and also results in the depletion of renal antioxidant defense system. Methods: Wistar rats (n = 6) were allocated into six groups constituting CMC control, Olive oil control, Toxic control, Standard group (Vitamin E 250mg/kg), Nefrowin I (500 mg/kg), and Nefrowin II (1000 mg/kg) administered orally for a period of 10 days. Intra-peritoneal injection of cisplatin was administered on day 7, to all groups except CMC and Olive-oil Control. At the end of the experiment, 24 hour urine was collected for urinary estimation and blood samples were collected by retro-orbital puncture method for serum estimation (creatinine, urea, uric acid, and total protein). Thereafter all the animals were sacrificed by means of cervical dislocation and kidney were dissected out immediately for both ex-vivo and histopathological examinations. Results: In Cisplatin treated group of animals the concentration of serum urea, Creatinine, Uric acid, and Urine creatinine were considerably increased and serum total protein considerably decreased than the normal animals which indicates severe nephrotoxicity. Treatment with Nefrowin significantly (p < 0.05) restored the levels of serum creatinine, urea, sodium, protein and potassium. Significantly (p < 0.05) increased the antioxidant defense enzyme levels of SOD& GSH on treatment with Nefrowin. Conclusion: On evaluating biochemical parameters, antioxidant enzyme and histopathological examinations it was found that the Nefrowin showed a significant nephro-protective activity in cisplatin induced nephrotoxicity.
[Full Text Article]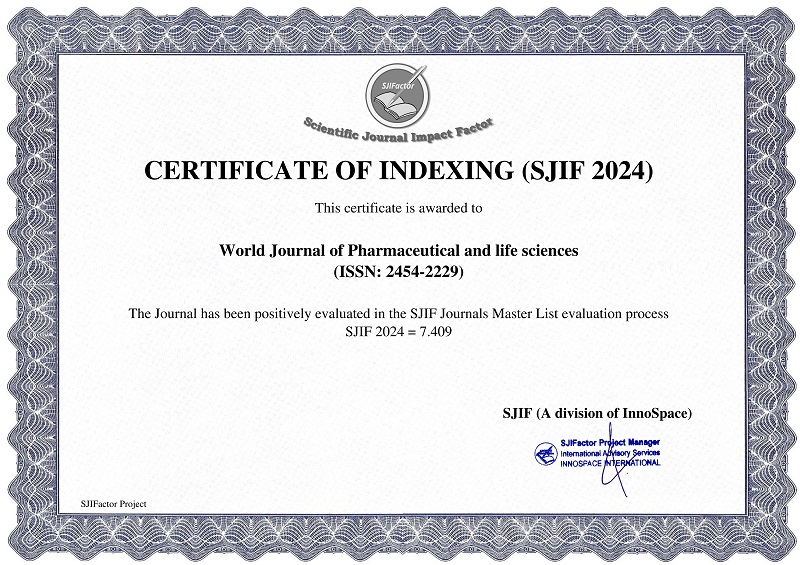 BEST PAPER AWARDS
World Journal of Pharmaceutical and life sciences Will give best paper award in every issue in the from of money along with certificate to promote research .
Best Article of current issue
Download Article : Click here