Abstract
CORRELATION OF VALUES OF HAEMOGLOBIN AND ERYTHROPOIETIN IN DIFFERENT TRIMESTERS OF PREGNANCY IN FEDERAL MEDICAL CENTRE OWERRI
Okoroiwu,I.L., Adaka,Doris Godwin and Obeagu,E mmanuel Ifeanyi*
ABSTRACT
The correlation values of haemoglobin (HB) and erythropoietin (Epo) in the different trimesters of pregnancy was conducted in Federal Medical Center Owerri, with the aim of determining the HB and EPO levels among pregnant women in different trimester of pregnancy in order to detect anaemia. A total of 200 women chosen randomly, prospectively and consecutively were used for the study: 50 pregnant women in their first trimester, 50 pregnant women in their second trimester and 50 pregnant women in their third trimester served as the
test groups, while 50 non-pregnant women served as the control. The mean age of the subjects was 34 years. Laboratory investigation for PCV and HB were done using the methods described by Cheesbrough (2006), miccrohaemaricit and Cyanmethaemoglobin; and erythropoietin level estimation was done using ElISA. Results of the laboratory investigation were analysed statistically using Pearson product moment of correlation using statistical package for social packages (SPSS). Laboratory result showed that pregnant women in the first trimester were mildly anaemic, with HB and erythropoietin level of 10.5g/dl and 75.77pg/mL respectively; while those in second and the third trimesters where not anaemic, with HB and EPO levels of 10.99g/dl and 99.88pg/ml in the second trimester and 11.67g/dl, 34.62 and 72.84pg/ml in the third trimester. The Correlation of erythropoietin and HB between first and second trimester were 0.041 and -0.282 showing a very weak correlation which were not statistically significant since P>0.05, also for the second and third trimester the correlation values were -0.282 and 0.0000 showing also a very weak correlation which was not statistically significant with P>0.005.
[Full Text Article]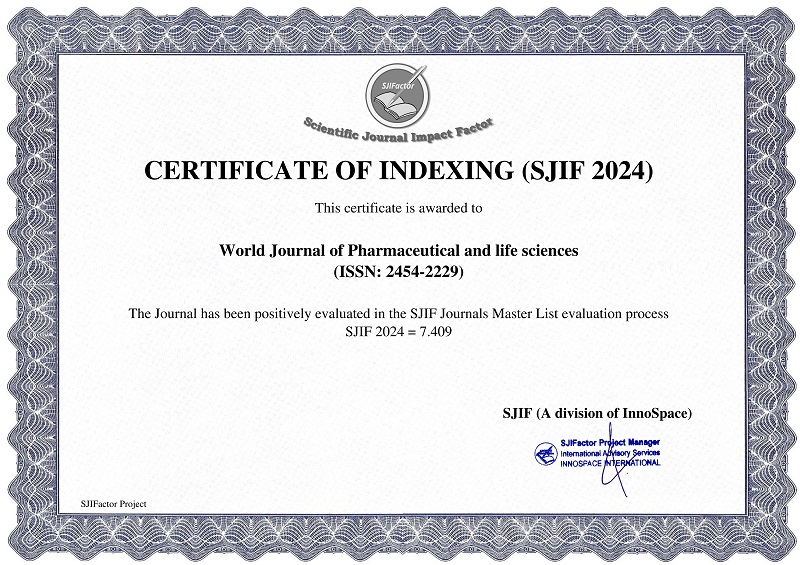 BEST PAPER AWARDS
World Journal of Pharmaceutical and life sciences Will give best paper award in every issue in the from of money along with certificate to promote research .
Best Article of current issue
Download Article : Click here