Abstract
A CROSS-SECTIONAL PROSPECTIVE STUDY TO ASSESS THE COMORBIDITIES IN CONGESTIVE CARDIAC FAILURE
Uthkarsha Vinesh*, Nikhil Kurian, Nivya P. S., Vanendra Yadav S., Nandan H. N., Divya Shree N.
ABSTRACT
Background: Congestive cardiac failure (CCF) is a complex clinical syndrome of multiple symptoms, functional impairments, and poor health-related quality of life (HRQoL).CCF patients are usually older and with a high number of comorbidities. Persisting symptoms and poor HRQoL after optimisation of CCF treatments suggest that comorbidities may be an important determinant of health and that non-cardiovascular comorbidities may be associated with CCF related symptoms. Method: This six month cross sectional descriptive study was conducted in 150 patients after obtaining approval from the Institutional Ethical Committee, MIMS, Mandya. The records of adults (>18 years) who are admitted with congestive cardiac failure to the ICU and MICU of Mandya Institute of Medical Science (MIMS) and Teaching Hospital, Mandya were studied and analysed using suitable statistical methods. Results: Our study found that there were more patients with 1-3 comorbidities and comorbidities present were ischaemic heart disease (48%), hypertension (44%), diabetes mellitus (20%), anaemia (16%), chronic obstructive pulmonary disease (16%), cardiomyopathy (12%), acute coronary syndrome (10%), angina (6%), myocardial infarction (6%), corpulmonale (6%), kidney failure (6%), cerebrovascular accident (4%), liver abnormalities (4%), hypernatremia (4%), asthma (4%) and respiratory failure (4%), Eisenmenger syndrome (2%), dyslipidaemia (2%), pleural effusion (2%), hypoglycaemia (2%), hypoproteinaemia (2%), acute gastritis (2%) and neck of femur (2%). Our study indicates that there were more male patients who had comorbidities with CCF compared to female patients. Conclusion: There were more patients with 1-3 comorbidities and the most common comorbidities were ischaemic heart disease, hypertension, diabetes mellitus, anaemia, chronic obstructive pulmonary disease, cardiomyopathy and acute coronary syndrome. Our study indicates that more male patients had comorbidities than female patients.
[Full Text Article]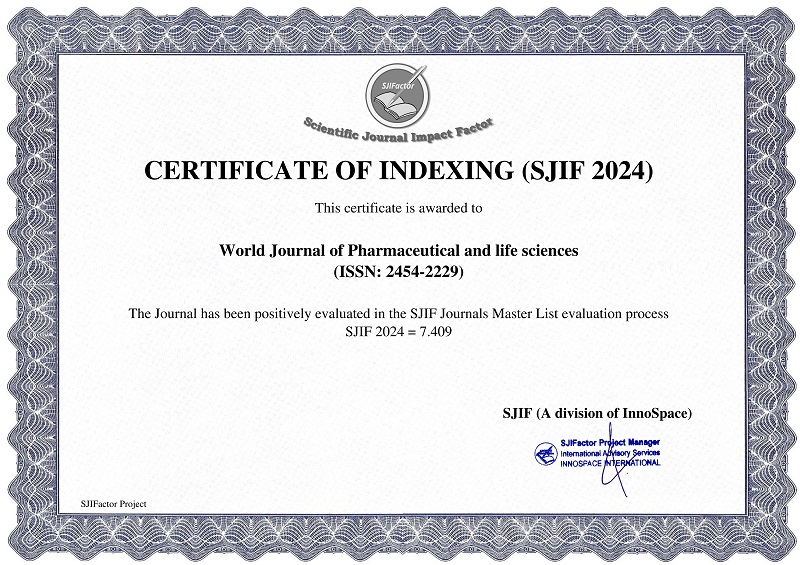 BEST PAPER AWARDS
World Journal of Pharmaceutical and life sciences Will give best paper award in every issue in the from of money along with certificate to promote research .
Best Article of current issue
Download Article : Click here