Abstract
OIL DEGRADATION ASSESSMENT OF MICROBES ISOLATED FROM USED ENGINE OIL CONTAMINATED SOIL IN OGBOMOSO, OYO STATE NIGERIA
Oladipo I. C.*, Afolabi M. G., Olanrewaju F. E., Olarinoye C. O., Adefioye F. A., Adediran T. D. Adewoyin A. G. and Odeyori T. O.
ABSTRACT
The indiscriminate disposal of used engine oil from vehicles by motor mechanics has been of great concern and a major source of oil pollution. This study is therefore designed to assess the microbiological and physicochemical characteristics of soils contaminated with used engine oil and investigate the biodegrading potentials of microorganisms isolated from contaminated soil. Oil-contaminated soil samples were collected from six different auto-mechanic workshops in Ogbomoso, Nigeria, uncontaminated soil samples were also collected to serve as control. The total heterotrophic bacterial counts for contaminated and uncontaminated soil samples ranged from 8.0x107 to 2.1x107 CFU/g and 22.0x107 to 30.0x107 CFU/g while the total colony counts for bacterial oil degraders ranged between 1.3x107 and 2.0x107 CFU/g in contaminated soil samples. The bacterial isolates were Bacillus polymyxa, B. megaterium, B. alvei, Pseudomonas aeruginosa, Enterobacter aerogenes, Escherichia coli. Residual oil for contaminated soil samples was found to be between 12.02±0.20 mg/kg and 19.40±0.50 mg/kg. Engine oil contaminated soil samples showed the highest nitrate, sulphate and phosphate concentration compared with the uncontaminated samples. E. coli showed the highest degradability potentials for both aliphatic and aromatic functional groups because it had the lowest intensity of 19.25cm-1 and 18.22 cm-1 respectively after 30 days as compared with the intensity of the control (146.05cm-1for aliphatic and 315.16 cm-1for aromatic). Bacteria capable of metabolizing engine oil in the studied sites was observed with E. coli more effective for degradation of both aliphatic and aromatic functional groups which is an indication that the isolates could be exploited for natural attenuation and clean-up of engine oil in case of spillage or indiscrimate disposal.
[Full Text Article]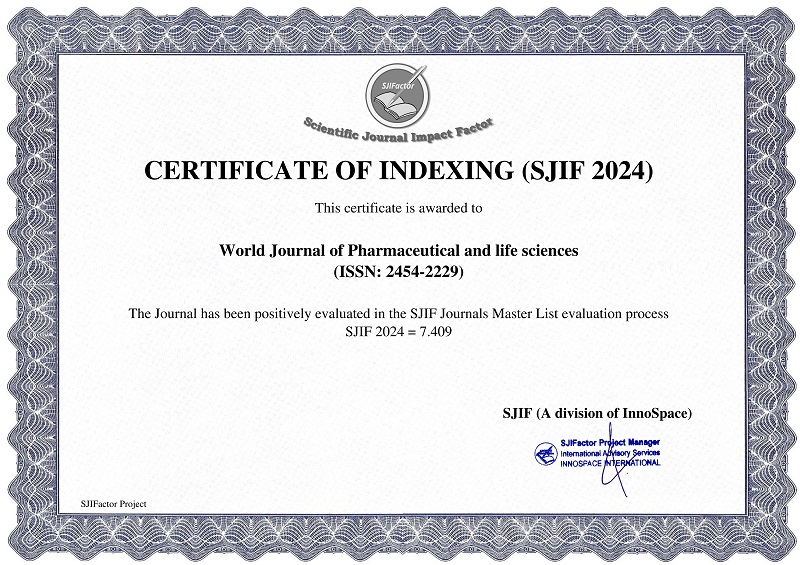 BEST PAPER AWARDS
World Journal of Pharmaceutical and life sciences Will give best paper award in every issue in the from of money along with certificate to promote research .
Best Article of current issue
Download Article : Click here